Virtal AMC
Based on feedback from our community during the Year in Chrysalis, we were already planning for a more robust virtual component of the AMC.  The AMC will now be fully virtual due to the COVID-19 pandemic. We announced our decision to go virtual on March 31st and launched a survey to gather our community's feedback on this decision.

We decided not to postpone the in-person conference because we cannot predict when it will be safe to gather in large numbers again. We know that we need the strategy conversations, skill-sharing, and collective joy-making of the AMC right now.

The Virtual AMC will take place July 23rd-26th,2020.

Over four days, AMCers will engage in a range of dynamic content, from the opening ceremony, plenaries, up to 100 transformative sessions, and of course AMC@NIGHT. Details  regarding speakers, performers and special events will be shared as they become available, you can check out the schedule overview here.

Yes! Network Gatherings will convene from June 25th – July 31st. For more information view the list of AMC2020 Network Gatherings here.

The AMC will spend the rest of May wrapping up session review and selection. All proposals will receive a decision early June.

This will depend on the type of session and the number of people a presenter can healthily and responsibly facilitate. When we release the conference schedule, each session description will include how many people can participate.

The AMC is partnering with Tiny Gigantic to help us develop holistic safety guidelines for the virtual AMC. This includes reviewing virtual platform policies on data and security, advocating for changes needed to fit our conference's needs, and co-developing guidelines for how we'll share space in a virtual AMC.

We know the financial impact of COVID-19 has hit our community directly. For this year's conference we are offering sliding scale registration from $0 to $600.

AMCers who pay for registration help ensure that we can keep our plans to pay artists and contractors who support in the production of the AMC. Those registrations will be considered a tax-deductible donation to Allied Media Projects.

Yes! The AMC will release a call for volunteers early June.

You can apply to become an AMC@NIGHT affiliated event, learn more about what it means to be an AMC2020@Night Auxiliary Event- here.  Application deadline is June 30th 2020!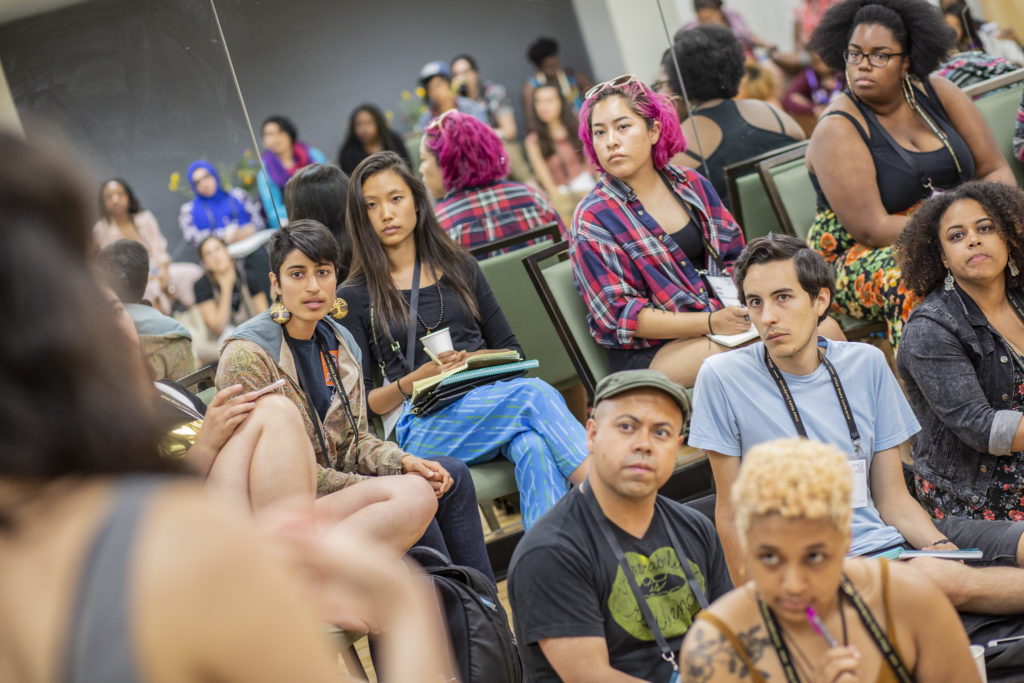 Registration
We know the financial impact of COVID-19 has hit our community directly. For this year's conference we are offering sliding scale registration from $0 to $600.

AMCers who pay for registration help ensure that we can keep our plans to pay artists and contractors who support in the production of the AMC. Those registrations will be considered a tax-deductible donation to Allied Media Projects. You can purchase registration online on the AMC website.

There is no deadline to register. You can register online through the last day of the conference.

We do not offer a separate large group registration rate or process. You can register up to 10 people at one time on the online registration page.

When you register for the AMC, please let us know if you have an accessibility need such as ASL interpretation.

You can also email accessibility@alliedmedia.org advance of the conference with specific questions about what we will be able to provide.

Under normal circumstances, the AMC takes place in Detroit at the Wayne State University Student Center and other nearby campus buildings. However, due to the COVID-19 pandemic, the 2020 AMC will take place online.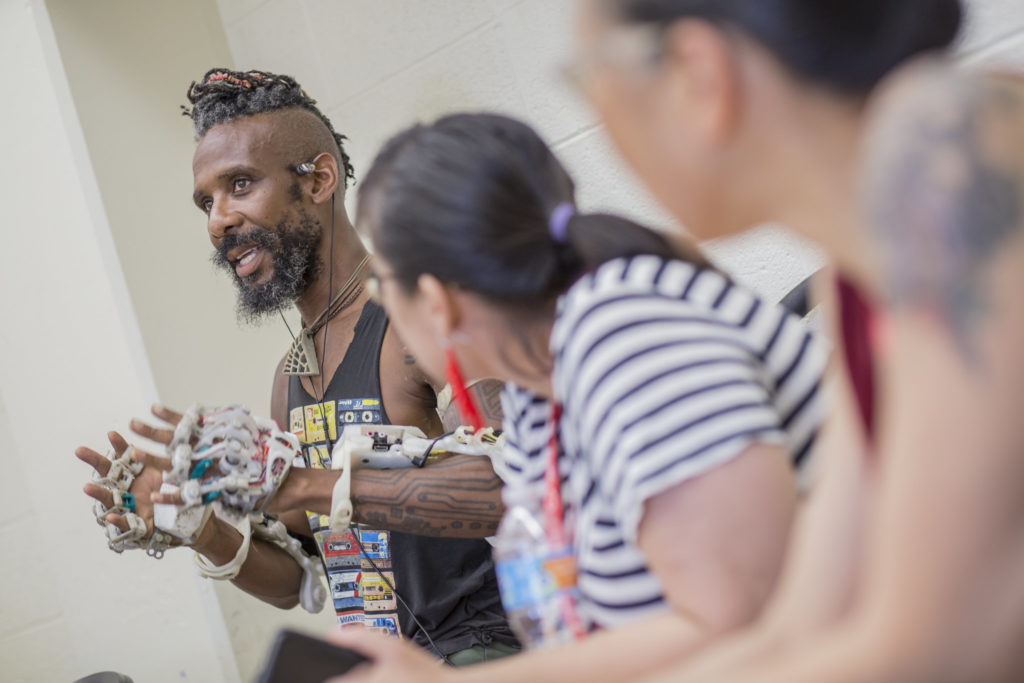 Attend & Participate
The AMC will post the online schedule of the conference on our website in May. The online schedule includes the most up-to-date information about sessions including session location, day and time, and a detailed description.

The AMC is for people of all ages! We have programming specifically geared towards kids and families. Sessions are geared towards learners of all levels including beginning, intermediate, and advanced.

Learn more about sponsorships opportunities here. If you are interested in supporting the AMC, please contact us at amc@alliedmedia.org to discuss our various sponsorship packages.

The AMC provides interpretation from English-to-Spanish, Spanish-to-English and ASL. Email accessibility@alliedmedia.org  if you would like to coordinate interpretation services ahead of the conference.

We encourage you to document and share your experiences online through social media and blogging. Tag the @AlliedMediaConf in your posts.

The Safety Team will be available for the virtual conference.The goal of the Safety Team is to practice transformative justice and to support the emotional health and well-being of our participants.

If you or someone you know experiences a situation of harm or abuse, is trying to negotiate sharing space, or is going through a rough time and needs some support, the Safety Team is here for you. We will be updating how to contact them during the virtual conference soon.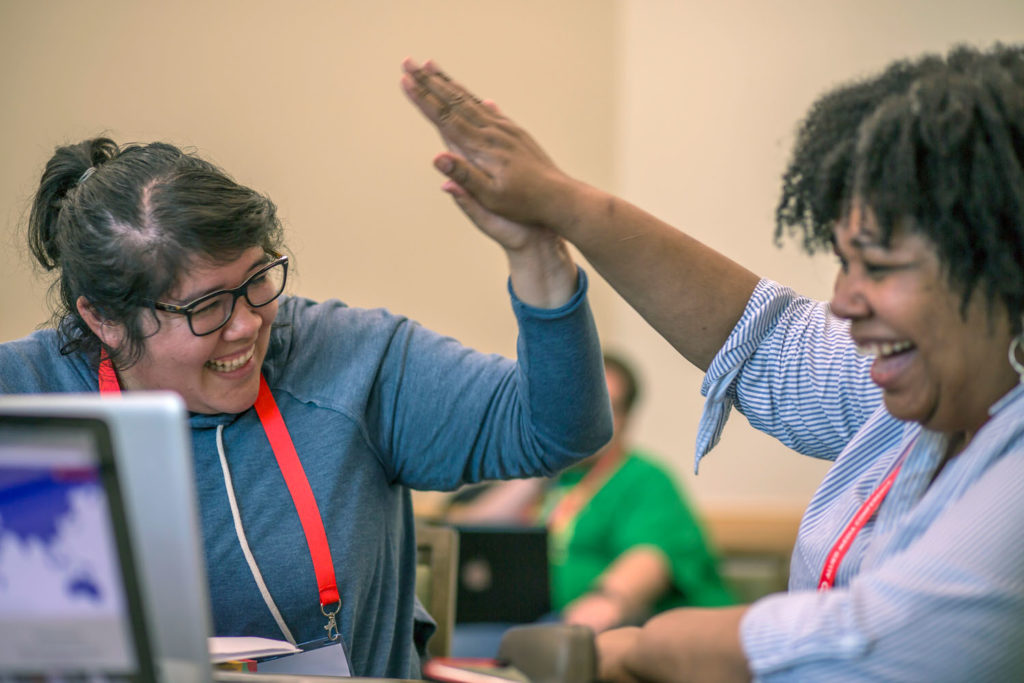 Network Gatherings
Network Gatherings are one- or two-day mini-conferences convened by a local or national network at the AMC. Through an open call for proposals, the AMC accepts a total of 20 Network Gatherings.

The purpose of Network Gatherings is to provide focused space for planning, skill-sharing, and community-building within the AMC for networks of people who are already organizing together around an issue or shared identity.

In order to coordinate a network gathering, you need a team of at least two people – with a minimum of one person who has attended the AMC.

Convene a group of up to 150 people in your organization, network or community for a one day or two day-long gathering on the Thursday and Friday of the AMC that explores how to apply media-based organizing or visionary organizing within the context of your work.
Support your participants in proposing and presenting at least two sessions during the AMC that connect with the content of your network gathering.
Fundraise to support the participation of presenters and participants who will enrich your content area.

Because of the large number of proposals for Network Gatherings – we only accept proposals from teams with a minimum of two fully committed coordinators. If you are unable to have at least two fully committed coordinators, please consider proposing a session or community meet-up at this year's conference.

Coordinating teams will have the opportunity to add or remove coordinators after the proposal has been accepted.

Absolutely! We are really excited to receive content that is youth-driven. We would like youth submitting proposals to have adult allies with whom they can work to coordinate logistics and other details.

The general timeline is as follows:

Fall
Select and finalize descriptions of Network Gatherings.

Winter
Coordinators recruit sessions related to their content
Coordinators participate in virtual planning meetings
Each Network Gathering releases their Call for Participation
Coordinators begin fundraising for their Network Gathering.

Spring
Network Gathering fundraising and logistical planning continues.

Summer
The AMC happens!

The time you spend coordinating will vary and may be more like two hours per week earlier in the year and closer to 15 hours in the final weeks leading up to the AMC.

AMP staff will advise on the development of the vision and content of your Network Gathering and facilitate connections between coordinators, potential participants, and potential funders.

Coordinators must have at least one representative present for virtual planning meetings. AMC2020 Planning Meetings will cover essential information and skill-development for the AMC organizing process: facilitative leadership, popular education, grassroots fundraising, communications strategy, and accessibility.

All coordinating teams receive:

Complimentary registration for your coordinating team
Support from AMP staff in planning your gathering through a series of virtual meetings
Support with fundraising and a mini-grant (up to $1,000) to seed grassroots fundraising efforts
Assistance with recruiting participants
Support with managing registration

Yes. All Network Gathering participants will need to register for the AMC.

Yes! Email amc@alliedmedia.org.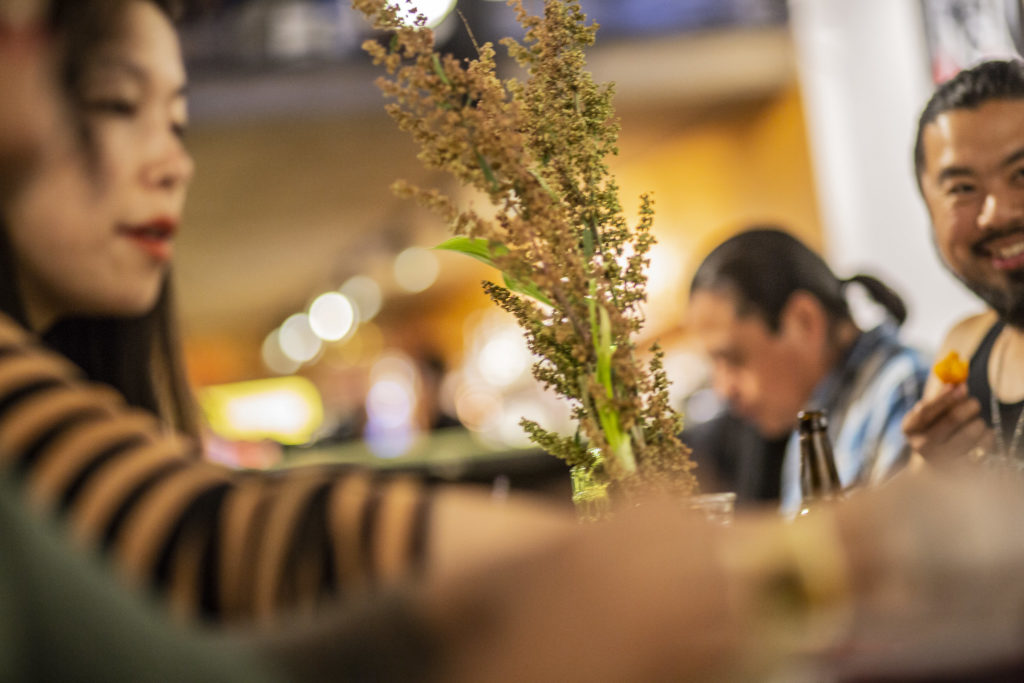 Proposing A Session
Anyone who is using media and or visionary organizing for liberation. We define "media" as anything you use to communicate with the world. We define liberation as an ongoing process of personal, collective, and systemic transformation towards the world we need.

The AMC is especially excited about sessions that center voices that are marginalized or less often heard, such as: Detroiters, youth and elders, parents, immigrants, queer and trans people, Indigenous communities, black people and people of color, deaf, disabled and chronically ill people, non-conventionally educated people, poor/economically disadvantaged people, sex workers or people working outside the conventional economy, and formerly incarcerated people.

A clear connection to media-based organizing and or visionary organizing.
Holistically explores solutions that span the internal, interpersonal, and systemic dimensions of a problem
Result in tangible resources and strategic next steps
Creates collaboration and connection. (We love AMC sessions designed by multiple organizations or individuals, and that connects to an ongoing organizing process that extends beyond the conference.)
Aims to be accessible to as many people as possible, people of diverse abilities, experiences, ages, and backgrounds.
Hands-on, creative, imaginative, and fun

We prioritize sessions that are led by people most impacted by the topics being discussed. For example, sessions exploring youth media making should include youth presenters.

We look for sessions that offer a range of learning opportunities: from beginner to advanced.

Sessions can be hands-on skill-shares, panel discussions, strategy sessions, performances, presentations, meetups, or a mix of formats.

The AMC organizes a review committee made up of long-time AMCers and organizers within the Allied Media Projects Network to review sessions in collaboration with AMC staff.

Session proposals are due at the first week of February and session review will take place through February and early May. Applicants will find out if their session is accepted by early June.

Due to the high number of applications and the physical and time constraints of the conference, we typically accept less than half of all proposed sessions. The Virtual AMC has added capacity constraints forcing us to accept a quarter of all proposed sessions.

Yes! But we will only accept one session per presenter.

The AMC will share best practices for presenting a session during an online webinar. These practices are also documented in the Presenter Guidelines zine.

You will finalize your session details in the session finalization form, which you must submit in order to confirm your participation at the AMC. In mid-June you will need to join an online presenter webinar. Leading up to the AMC, session presenters will also promote their sessions online.

The AMC will send you a link to your session description after it has been added to the AMC online schedule in late-June. You can share this link on social media and with your networks. You can also create promotional graphics using the AMC design toolkit.

If you would like to update your online session description, or change your session time or location, email amc@alliedmedia.org. If you need to cancel your session please email us as soon as possible.
Tracks at the AMC
Network Gatherings and Sessions that explore all forms of media (art, technology, design, storytelling, journalism, etc.) and how our media-making can further liberation as an ongoing process of as personal, collective, and systemic transformation.

Network Gatherings and Sessions that grow our organizing capacity to envision and create a world in which we: care for ourselves, each other, other species, and the planet; dismantle supremacist systems as they operate upon us and within us; assume responsibility for creating new liberatory ways of being, and; cultivate life-affirming joy.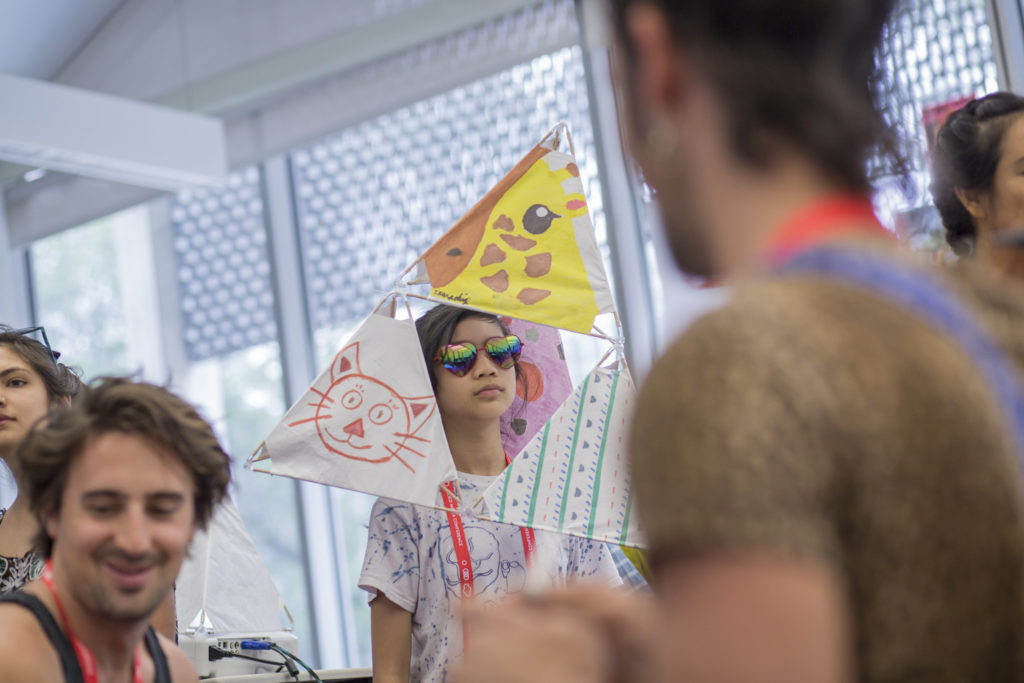 The Year in Chrysalis
After 20 years of creating, connecting and transforming our community, the Allied Media Conference took a one year break. We used this year to devise a new shape that could hold healthy, purposeful growth over the coming years. We called this period the Year in Chrysalis.

Throughout the Year in Chrysalis we gathered AMC community members far and wide to help us explore the questions: How do we want to grow? What are the key ingredients that make the AMC special? What parts of the conference can become something new?

We gathered quantitative and qualitative data to understand the last seven years of the conference (during which we experienced the most significant growth). We convened the Chrysalis Creative Team, a body of long-time and newer AMC participants to guide the strategic direction of the Chrysalis process. This body held two visioning retreats, and collaboratively gathered input from approximately 200 people through a series of listening "living room" sessions. These sessions helped us learn about what AMCers need from the conference and provided vital feedback on various iterations of the next shape of the conference.

After spending the year in reflection, deep-dive evaluation, research, and development we emerged with a new conference design. Read on to learn about the new shape of the conference.