The 22nd Biennial Allied Media Conference will become the first-ever hybrid experience! Convening June 30th – July 3rd, 2022, AMC2022 will be a space to explore new forms of organizing, infused with creativity, deep listening, and synergy between diverse mediums and tactics. We are now seeking your proposals for online sessions!
AMC2022 will feature a dynamic range of ten unique focus areas – from Journalism for Liberation to Abolishing Carceral Tech to Sex & Pleasure as Tools for Community Healing – that explore the imaginative strategies we need for joyful and sustainable activism. When you propose a session for the AMC, you can associate it with one of the AMC's Tracks or offer it independently as part of our Shaping Change Track.
Learn more about all of the AMC2022 Tracks and Network Gatherings and read the calls for participation by clicking the links below. Then, submit a proposal of your own!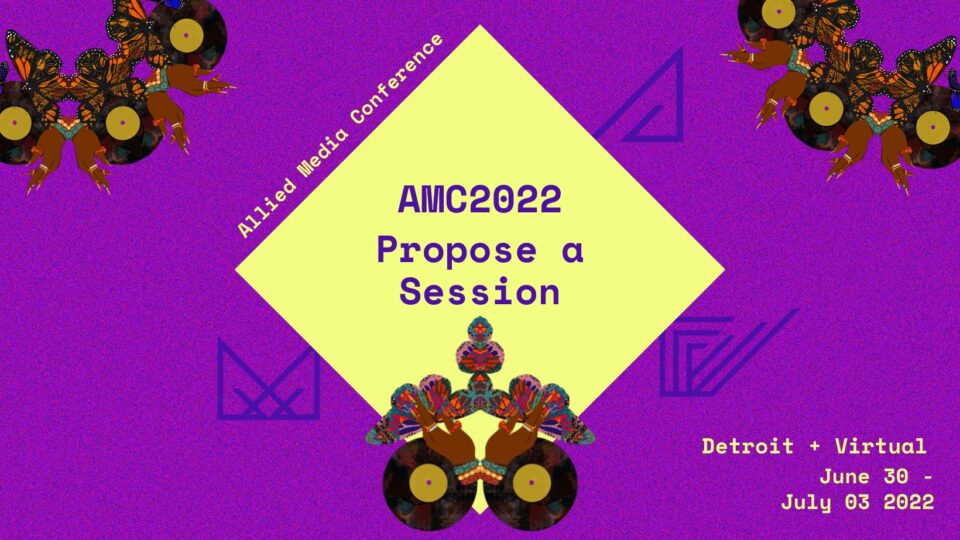 Submit a session for the 22nd Biennial Allied Media Conference happening Detroit and Online from June 30th – July 3rd, 2022. Session proposals are due Wednesday, February 9th, 2022 at 11:59 EST.
Start your submission
A Focus of Media for Liberation and Visionary Organizing
The Allied Media Conference explores two overarching themes, Media for Liberation and Visionary Organizing.
Media for Liberation contextualizes, advances and explores all forms of media, or all the ways in which we communicate with the world: art, technology, design, storytelling, journalism, and more.

Visionary organizing grows our organizing capacity to envision and create a world in which we care for ourselves, each other, other species, and the planet; dismantle supremacist systems as they operate upon us and within us; assume responsibility for creating new liberatory ways of being, and; cultivate life-affirming joy.
AMC2022 Tracks and Their Calls for Participation
Tracks of the 22nd Allied Media Conference are looking for a dynamic range of transformative content to explore the imaginative strategies we need to build a more creative and just world. We especially love sessions that share interesting ideas, strategies, and tools in an accessible way, and that offer opportunities for continued work and connections beyond the AMC.
A Track is a series of sessions connected by a shared theme. The coordinators of each Track have written "calls for participation" that invite you to share your session ideas. You can read all the calls for participation at the links below. Once you are ready to propose, go here to fill out the form and submit your session idea. Remember, if your idea doesn't fit with the specifics of these tracks or practice spaces, you can always propose it to the Shaping Change Track.
Learn more about the types of sessions you can propose here.
AMC2022 Tracks
AMC2022 Network Gatherings
Network Gatherings are one or two-day long mini-conferences convened by local or national networks on the Thursday and Friday of the AMC. Network Gatherings are either open or invite-only.
Some Network Gathering have written their own calls for participation, which you can view below. If you would like to know more about how to participate in a Network Gathering, please contact the coordinators directly via the contact information provided in the call for participation.
---
Never presented at a conference before? Have questions?
We encourage proposals from groups who don't often attend conferences and we are prepared to support you to lead an awesome session.
We will be hosting two online information sessions about the AMC session proposal process. Each session will have ASL interpretation and closed captioning. Please contact us with any additional accessibility requests.
Register for one of the info calls below to learn more and ask your questions.
Thursday, January 13th 5-6pm EST
Monday, January 31st, 6-7pm EST
What makes a good session proposal?
No matter under which content area you're proposing, good sessions often share some of the below characteristics:
Shows a clear connection to media for liberation or visionary organizing.
Embodies AMP Network Principles
Holistically explores solutions that span the internal, interpersonal, and systemic dimensions of a problem
Includes tangible resources and strategic next steps
Are led by and for Queer and Trans, Disabled, Undocumented, Black, Indigenous, People of Color
Creates collaboration and connection. (We love AMC sessions designed by multiple organizations or individuals, and that connect to an ongoing organizing process that extends beyond the conference.)
Aims to be accessible to as many people as possible, people of diverse abilities, experiences, ages, and backgrounds.
Hands-on, creative, imaginative, and fun
We prioritize sessions that are led by people most impacted by the topics being discussed. For example, sessions exploring youth media making should include youth presenters.
We look for sessions that offer a range of learning opportunities, from beginner to advanced.
Sessions can be hands-on skill-shares, panel discussions, strategy sessions, performances, presentations, meetups, or a mix of formats.
How to propose a session
Take a look at previous years by browsing

our past program books

to get inspired and get a sense of the kinds of content the AMC has hosted before.

The AMC uses Submittable as a platform to gather proposals. Take some time to create an account if you don't already have one. 

Take your time, you can always save and return to the application.

Submit form before February 9th, 2022 at 11:59 EST.
Click here to propose a session