Track or Network Gathering FAQ!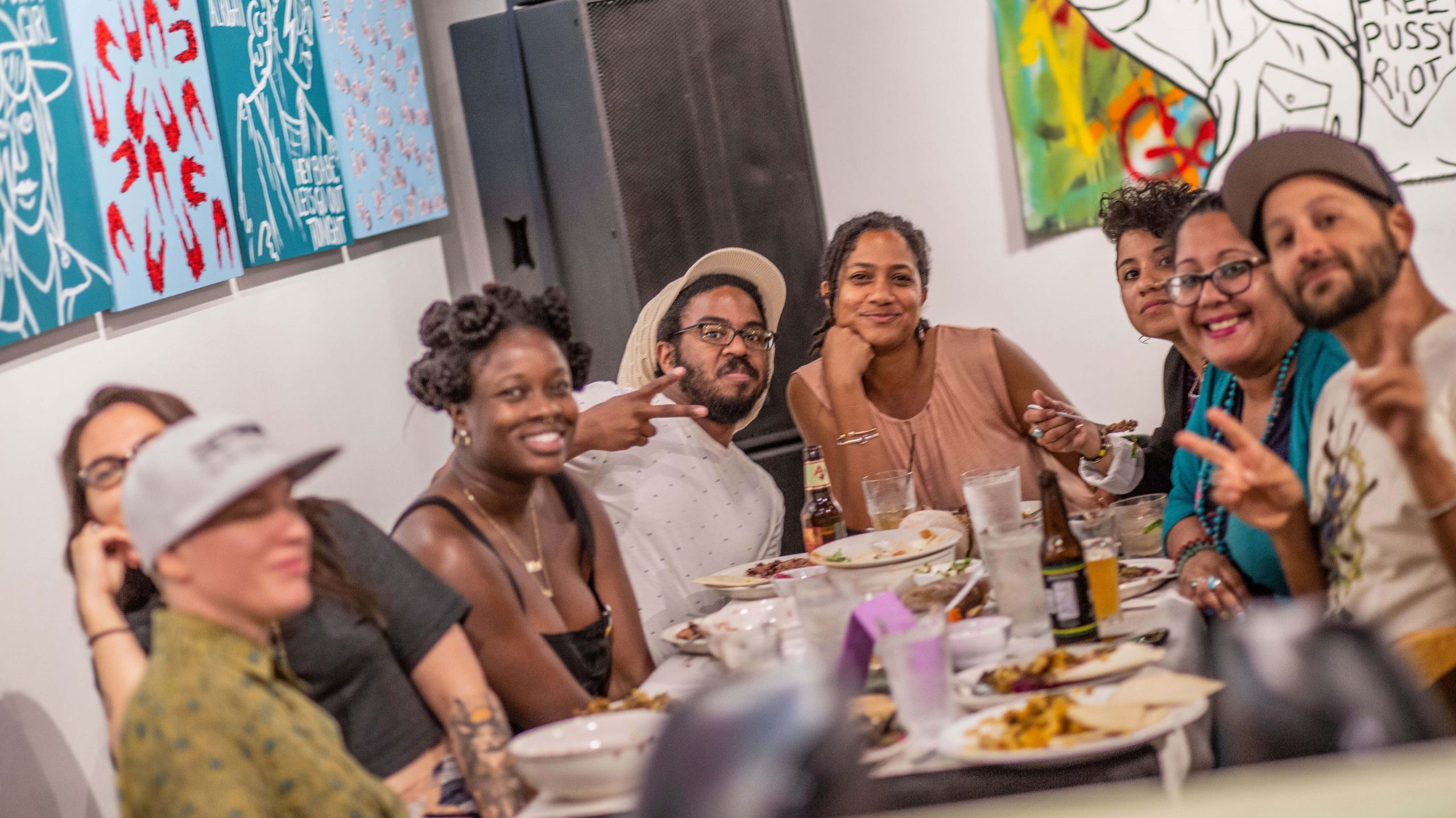 Answers to common questions about coordinating a Track or Network Gathering at the 22nd Allied Media Conference, hosted in Detroit and online June 30th – July 3rd, 2022! The deadline to propose a Track or Network Gathering for AMC2022 is July 12th, 2021 at 11:59 EST.
Network Gatherings are one- or two-day mini-conferences convened by a local or national network at the AMC. The purpose of Network Gatherings is to provide focused space for planning, skill-sharing, and community-building within the AMC for networks of people who are already organizing together around an issue or shared identity.

A Track is a series of sessions connected by a shared theme throughout the AMC. The purpose of Tracks is to curate sessions into thematic focus areas related to Media for Liberation and Visionary Organizing.

Tracks and Network Gatherings explore all forms of media (art, technology, design, storytelling, journalism, etc.). They delve into how our media-making can further liberation as an ongoing process of personal, collective, and systemic transformation.

This area is for Tracks and Network Gatherings that grow our organizing capacity to envision and create a world in which we:

care for ourselves, each other, other species, and the planet
dismantle supremacist systems as they operate upon us and within us
assume responsibility for creating new liberatory ways of being, and
cultivate life-affirming joy.

Coordinating a Track or Network Gathering is a great way to connect with other people who share your values around a shared purpose or cause. You will bring people together for a meaningful experience over the four days of the AMC and you can also use this as an opportunity to develop projects that extend beyond the conference.
By participating in a year-round organizing process with the AMC, you will build lasting relationships with a growing network of national and international artists, activists, and media makers. Many Track and Network Gathering Coordinators develop their skills in facilitative leadership, popular education, and grassroots fundraising which help them be stronger organizers in their home communities.

In order to coordinate a track or network gathering, you need a team of at least three people – with a minimum of one person who has attended the AMC.

If you are coordinating a Network Gathering you will…

Convene a group of up to 100 people in your organization, network or community for a one day or two day-long gathering on the Thursday and Friday of the AMC that explores how to apply media-based organizing or visionary organizing within the context of your work.
Build a network of collaborators and comrades that extends beyond the AMC
Fundraise to support the participation of presenters and participants who will enrich your content area

If you are coordinating a Track you will…

Recruit up to 10 sessions (and two meet-ups) between Thurs-Sun of the conference that explore some aspect of media-based organizing.
Recruit presenters who will present a range of sessions including: panels, hands on sessions, strategy sessions, screenings and/or performances.
Participate in session review.
Support presenters in their logistics through the weekend
Fundraise to support the participation of presenters and participants who will enrich your content area.

The AMC is especially excited about Tracks that center the voices and leadership of communities too often marginalized, such as: Detroiters, youth and elders, parents, immigrants, queer and trans people, Indigenous communities, black people and people of color, deaf, disabled and chronically ill people, non-conventionally educated people, poor/economically disadvantaged people, sex workers or people working outside the conventional economy, and formerly incarcerated people.

Because of the large number of proposals, we only accept proposals from teams with a minimum of two fully committed coordinators for Tracks and Network Gatherings (three is highly recommended) and a maximum of four. If you are unable to meet these requirements, please consider proposing a session or community meet-up for AMC2022.

Coordinating teams will have the opportunity to add or remove coordinators after the proposal has been accepted.

Absolutely! We are really excited to receive content that is youth-driven. We would like youth submitting proposals to have adult allies with whom they can work to coordinate logistics and other details.

The general timeline is as follows:

Summer 2021

Propose your Track or Network Gathering by July 12th,  2021 at 11:59 EST.

Fall 2021

Coordinators clarify their proposal and goals
Coordinators participate in virtual planning meetings
Each Network Gathering releases their Call for Participation
Coordinators begin fundraising for their Network Gathering

Winter 2021

Network Gathering fundraising and logistical planning continues
Annual coordinator's meeting in Detroit from November 5th-7th, 2021
Each Track releases a call for session proposals

Spring

Network Gathering descriptions and coordinating teams are finalized

Summer

June 30th – July 3rd, 2022, the AMC happens!

We are excited to accept both in-person and virtual programming for Tracks and Network Gatherings. Due to the emergent nature of the conference organizing process, and the evolving safety protocols of the COVID-19 pandemic, we will not be able to confirm whether or not your T / NG programming can be exclusively in-person until closer to AMC2022.

Your coordinating team should each prepare to commit several hours per week between August 2021 and June 2022. The time you spend coordinating will vary and may be more like two hours per week earlier in the year and closer to 15 hours in the final weeks leading up to the AMC.

All coordinating teams for Tracks and Network Gatherings receive:

Complimentary registration for your coordinating team
Support from AMC staff in planning your gathering through a series of virtual meetings
Support with fundraising and a mini-grant of $2,000 to seed grassroots fundraising efforts
Meeting facilities on or around the Wayne State University campus and or support with convening your Track or Network Gathering online
Assistance with recruiting participants
Support with managing registration

AMC2022 planning meetings will cover essential information and skill-development for the AMC organizing process: facilitative leadership, popular education, grassroots fundraising, communications strategy, and accessibility. Coordinators must have at least one representative present for virtual planning meetings.

Yes. All coordinators will need to register for the AMC. If you have participants who plan to attend the Network Gathering but not the rest of the conference the AMC offers a day-rate of $60.00.

Register for one of the info calls below to learn more and ask questions about proposing a track or network gathering.

Wednesday: June 9th, 2021 / 4pm – 5pm ET, register 

Wednesday, June 23rd, 2021 / 6pm – 7pm ET, register 

Wednesday, July 7th, 2021 / 5pm – 6pm ET, register 

Friday, July 9th, 2021 / 2pm – 3pm ET, register 

Each webinar will have ASL Interpretation and closed captioning. Please contact us for additional accessibility requests.