The Allied Media Conference is a living, breathing network emerging out of 21 years of relationship-building across issues, identities, organizing practices, and creative mediums. Beginning as the Midwest Zine Conference in 1999, the AMC moved from its home in Bowling Green, OH to Detroit in 2007. This move to Detroit came as the result of increased leadership by women of color and Detroit youth organizers in the conference. From 2007 onwards, the conference increasingly became a home to young, queer, disabled, and BIPOC people from low-income communities who were using media to transform their worlds.
The AMC's roots are firmly planted in Detroit's creative and community organizing ecosystems, drawing upon decades of intergenerational wisdom from the city's many movement legacies— Black Power, Labor, Environmental Justice, Queer Liberation, and more. The community that attends the AMC year after year is national, and increasingly global. At the conference, Detroiters teach the rest of the world about how to survive and thrive in the wake of white supremacist economic violence and industrial collapse. Participants bring their own wisdom, organizing, models, and movement legacies from places like Durham, Albuquerque, Palestine, Jackson, and New York. The local-global identity of the AMC creates a uniquely rich environment for place-based knowledge exchange.
After 20 years of organizing the AMC as an annual convening, the conference took a Year in Chrysalis in 2019 to engage in deep reflection. AMC returned in 2020 as a biennial conference to address the conference's monumental growth with care and intention. 2020 was also the first-ever all virtual AMC, due to the COVID-19 pandemic.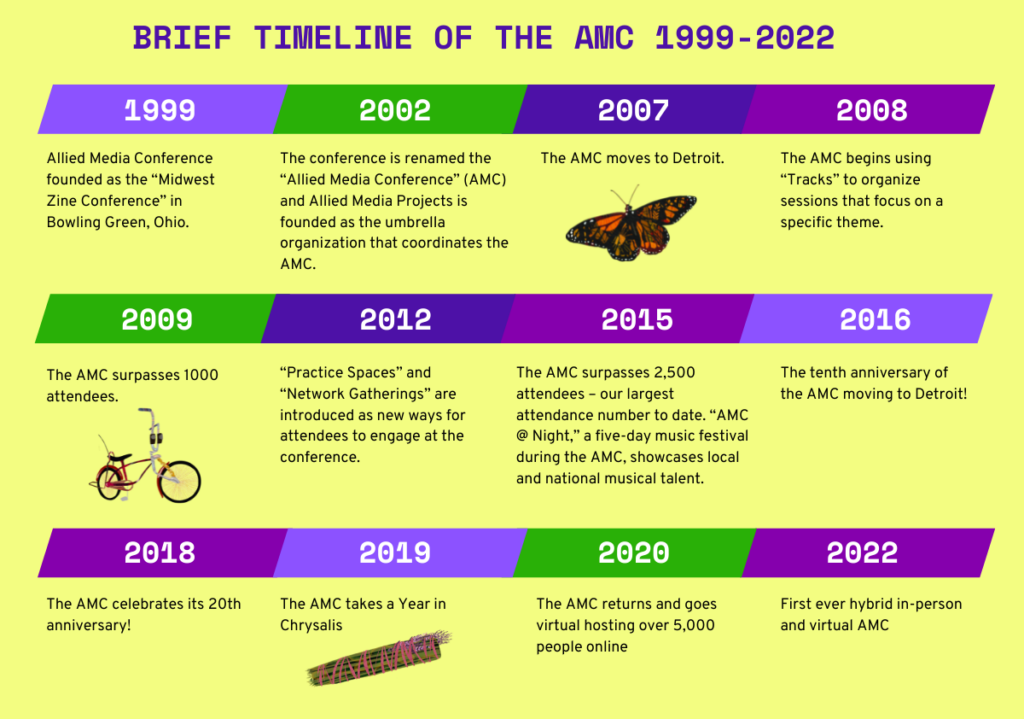 Brief History of the AMC 1999-2022
| | |
| --- | --- |
| 1999 | Allied Media Conference founded as the "Midwest Zine Conference" in Bowling Green, Ohio. |
| 2002 | The conference is renamed the "Allied Media Conference" (AMC) and Allied Media Projects is founded as the umbrella organization that coordinates the AMC. |
| 2007 | The AMC moves to Detroit. |
| 2008 | The AMC begins using "Tracks" to organize sessions that focus on a specific theme. |
| 2009 | The AMC surpasses 1000 attendees. |
| 2012 | "Practice Spaces" and "Network Gatherings" are introduced as new ways for attendees to engage at the conference. |
| 2015 | The AMC surpasses 2,500 attendees – our largest attendance number to date. "AMC @ Night," a five-day music festival during the AMC, showcases local and national musical talent. |
| 2016 | The tenth anniversary of the AMC moving to Detroit! |
| 2018 | The AMC celebrates its 20th anniversary! |
| 2019 | The AMC takes a Year in Chrysalis |
| 2020 | The AMC returns and goes virtual hosting over 5,000 people online |
| 2022 | First ever hybrid in-person and virtual AMC |
---
Program Guides
The Allied Media Conference began as the "Midwest Zine Conference" in 1999, with a focus on underground publishing and do-it-yourself media. In 2007 the conference moved from Bowling Green, Ohio to Detroit, Michigan. Check out the program guidebooks from past conferences: