"The AMC is a space to go where I can feel free. I don't have to worry about how I look, what I sound like, none of that. It's an open space for creativity, not competition. All these people, all these minds, saying: this is possible." -Rhonda Anderson
---
Plenaries
AfroFeministFutures For the World We Want!
Thursday | June 30th – 5:00pm-6:30pm EST
The Combahee River Collective said it best when they said, "If Black women were free, it would mean that everyone else would have to be free since our freedom would necessitate the destruction of all the systems of oppression." Listen to Dr. Moya Bailey, Emani Love, Paris Hatcher, Asha Ransby-Sporn and Demita Frazier discuss the revolutionary potential of afrofeminist leadership as they build free futures for Black women while expanding freedom for everyone else!
Plenary Guests: Dr. Moya Bailey, Paris Hatcher, Emani Love, Asha Ransby-Sporn, Demita Frazier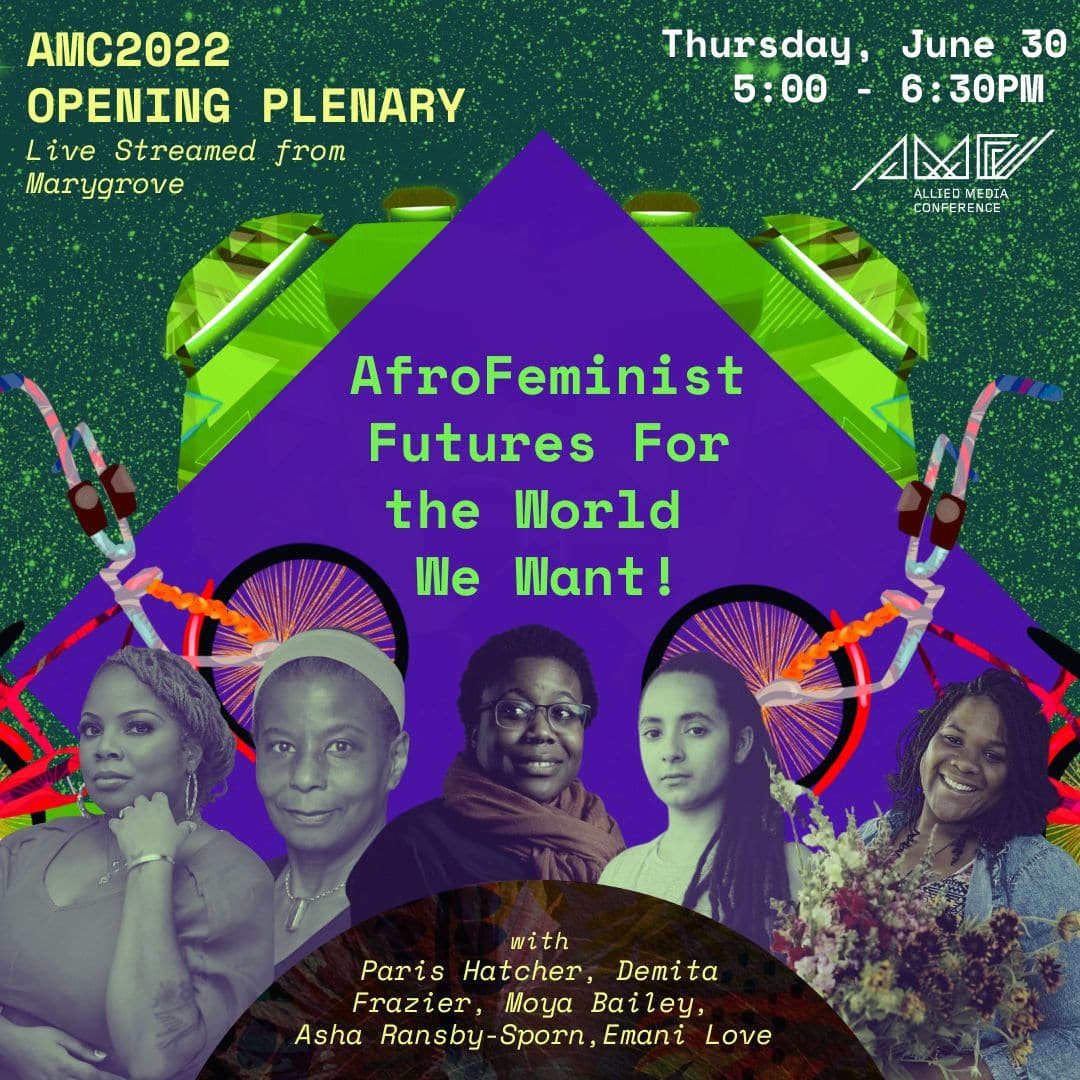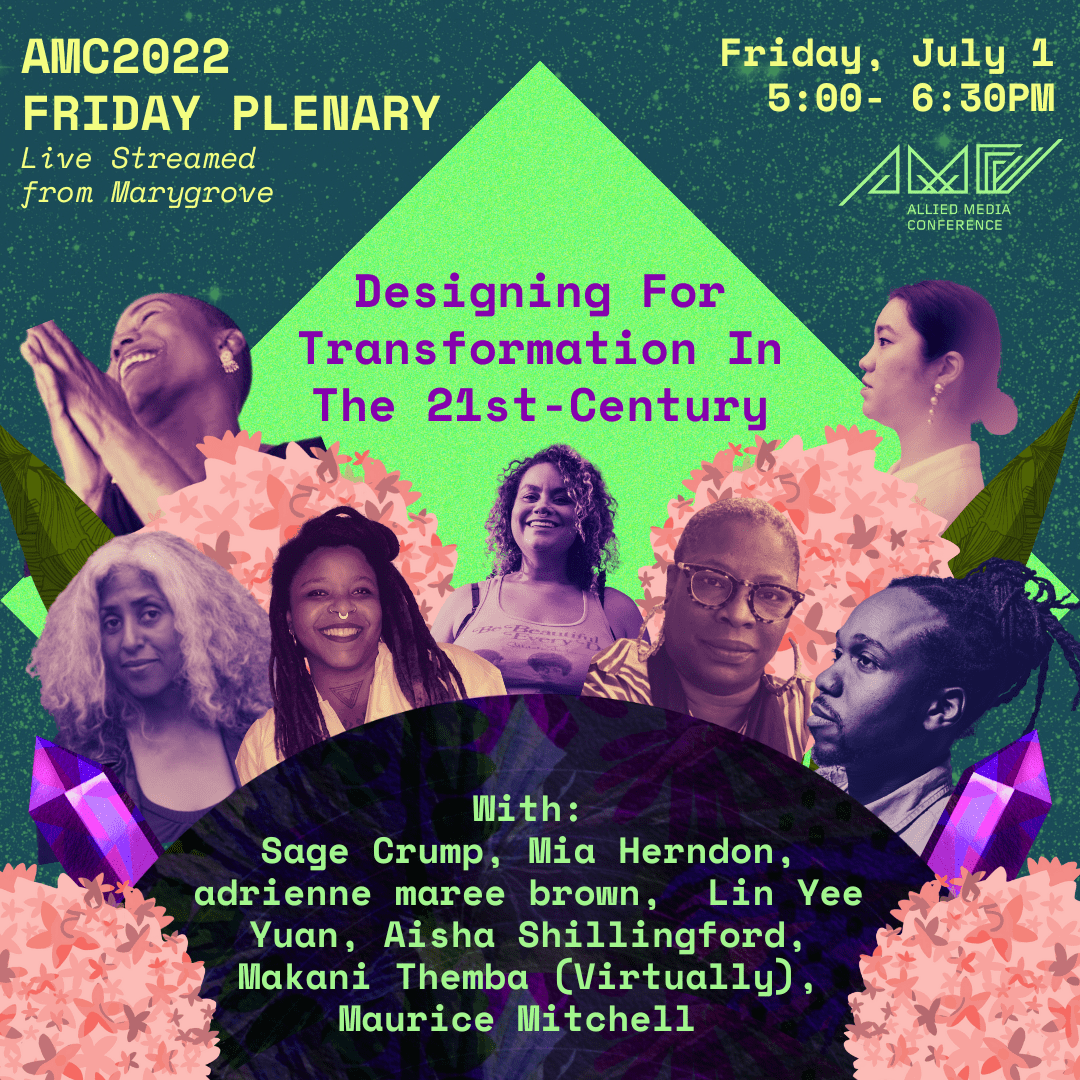 Designing For Transformation In The 21st-Century
Friday | July 1st  5:00pm-6:30pm EST
It has been 5 years since adrienne maree brown's Emergent Strategy: Shaping Change Changing Worlds was published, igniting visionary solutions for a more just and sustainable world. This plenary cross-pollinates designers, artists, and organizers for a discussion on how to shape, scale, and embody power as we collectively build more liberated futures.
Plenary Guests: Sage Crump, Mia Herndon, adrienne maree brown,  Lin Yee Yuan, Aisha Shillingford, Makani Themba (virtually), Maurice Mitchell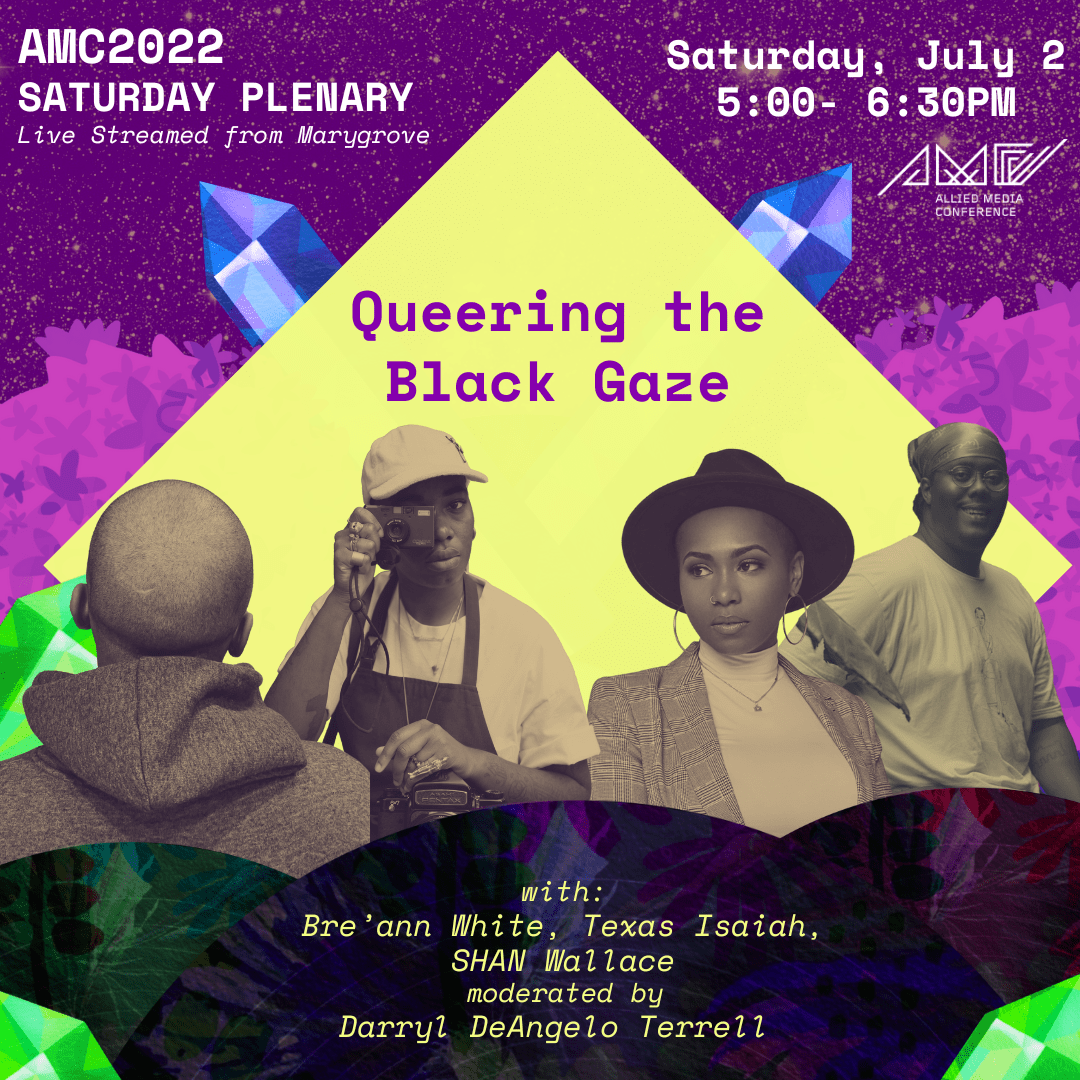 Queering the Black Gaze
Saturday | July 2nd – 5:00pm-6:30pm EST
This plenary explores how young Black & queer photographers are turning their lenses towards the margins to expand creativity, shift power, and reclaim the archive.
Plenary Guests: Bre'ann White, Texas Isaiah, Shan Wallace, moderated by Darryl DeAngelo Terrell 
Reparations: Repairing Harm in the Age of Mass Surveillance
Sunday | July 3rd – 11:00am-12:30pm 
What does it mean to repair harms that are evolving and rapidly expanding? The reparations movement to redress Black Americans is gaining momentum, and has since expanded to demanding repair for other forms of white supremacist and state violence, including mass surveillance, environmental racism, housing affordability, media, militarization and more. Centering the 2021 Detroit reparations task force, this panel will explore the tactics, strategies, and imagination required to make reparations a reality, in Detroit and beyond.
Moderator: Tawana Petty
Speakers: Lauren Hood, Malkia Devich Cyril, Myrtle Thompson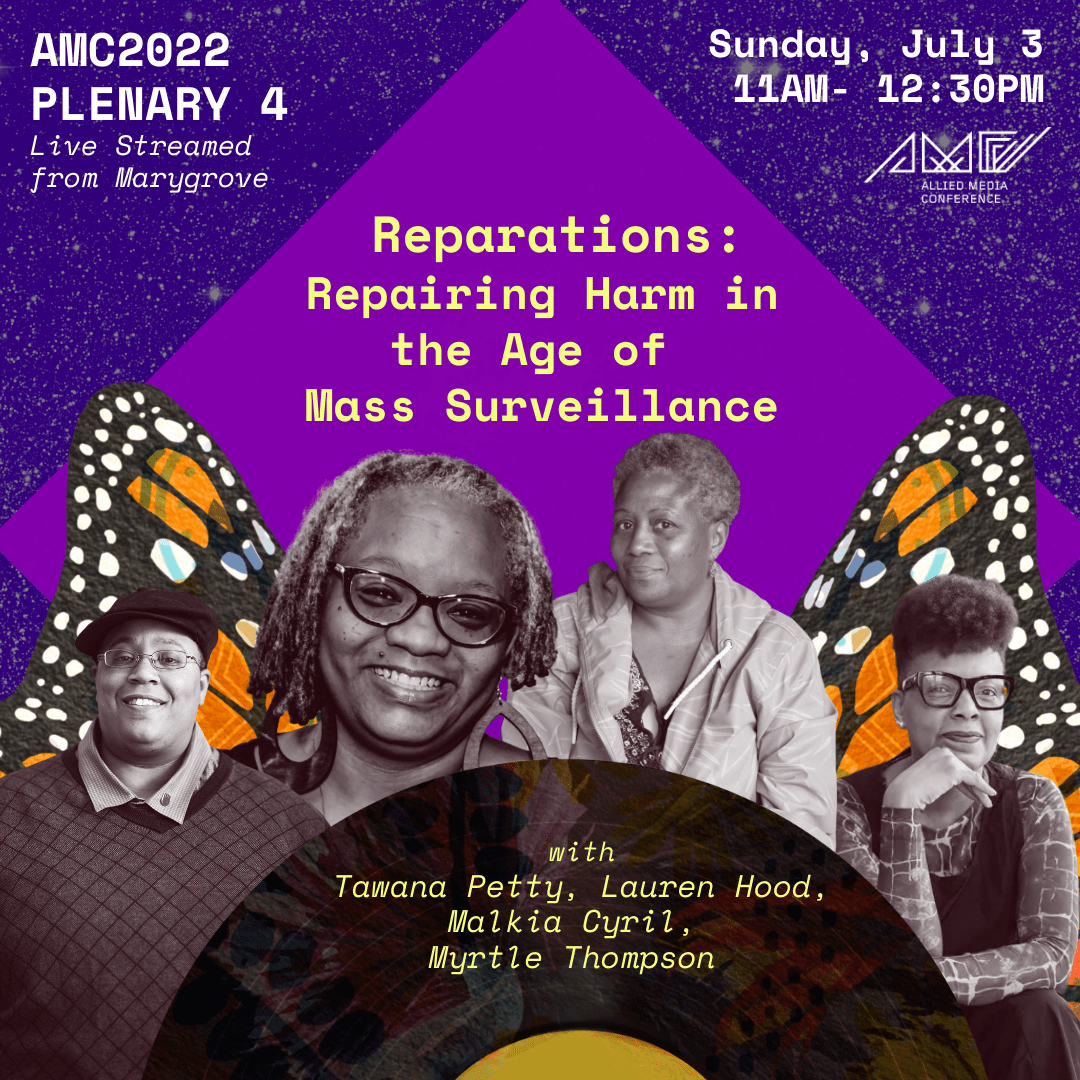 ---
Ceremonies
Opening Ceremony
Thursday | June 30th, 7:00pm-8:30pm EST
Allied Media Conference 2022 will open with a hybrid virtual/live opening ceremony live-streamed from Marygrove College on June 30th from 7:00PM – 8:30PM EST.  Rooted in Detroit's lineage as Midnight City, the code name for the last stop on the Underground Railroad, guests will be invited to celebrate, heal, and rest our collective imaginations as we journey towards liberation. We will open the crossroads of the conference with a virtual keynote speech delivered by Tricia Hersey of the Nap Ministry, offerings from Lead to Life, Hadassah Greensky, the TETRA, Siwatu-Salama Ra and Rhonda Anderson, Mala Forever, Healing By Choice!, and other Detroit-based organizations and artists devoted to abolition, environmental justice, and black & indigenous liberation in Detroit.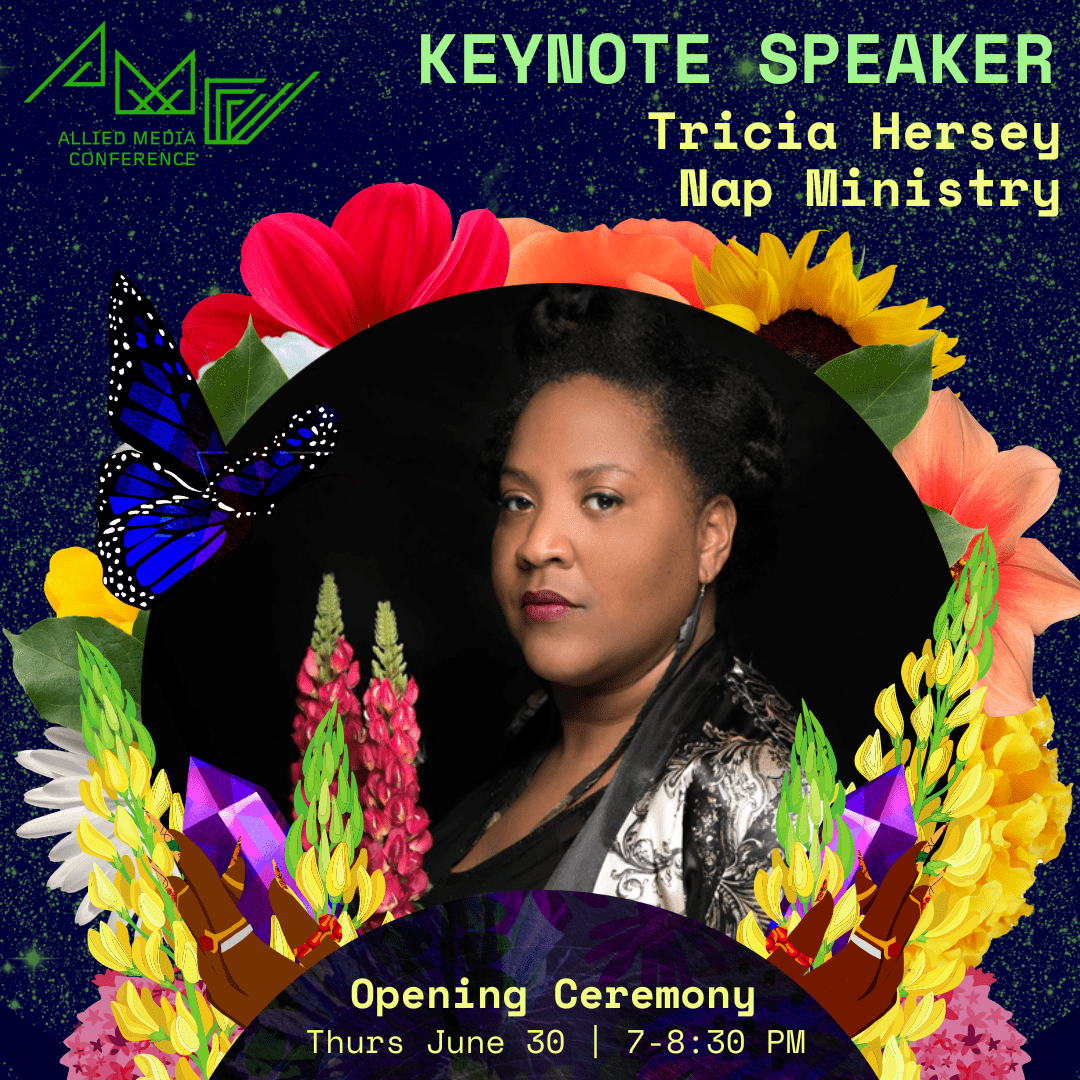 Closing Ceremony
Sunday | July 3rd – 4:00PM – 6:00PM EST
"'Nature is not a Metaphor' it's an ongoing process of transformation." Molly Leebove 
We close out the 22nd Allied Media Conference inspired by the perfect memory of certain butterfly species, who pass ecological memory from generation to generation so that the same butterfly who migrates is not the same one who returns, and yet: they find the same trees, waters, and lands. What intergenerational, ancestral, and ecological memories can we unlock together? 
We are deeply entangled in the systems we are trying to change. And yet, we are opening up what we're willing to conceive of and expanding our capacity for complexity. We are a kaleidoscope of butterflies, moving together towards liberation, constantly transforming, exploding with color, light, and possibility. 
Featuring: Dr. Gloria House, Nandi Comer, TeMate Dance Institute, Cherise Morris, A'leetzia Burns, SUPERCOOLWICKED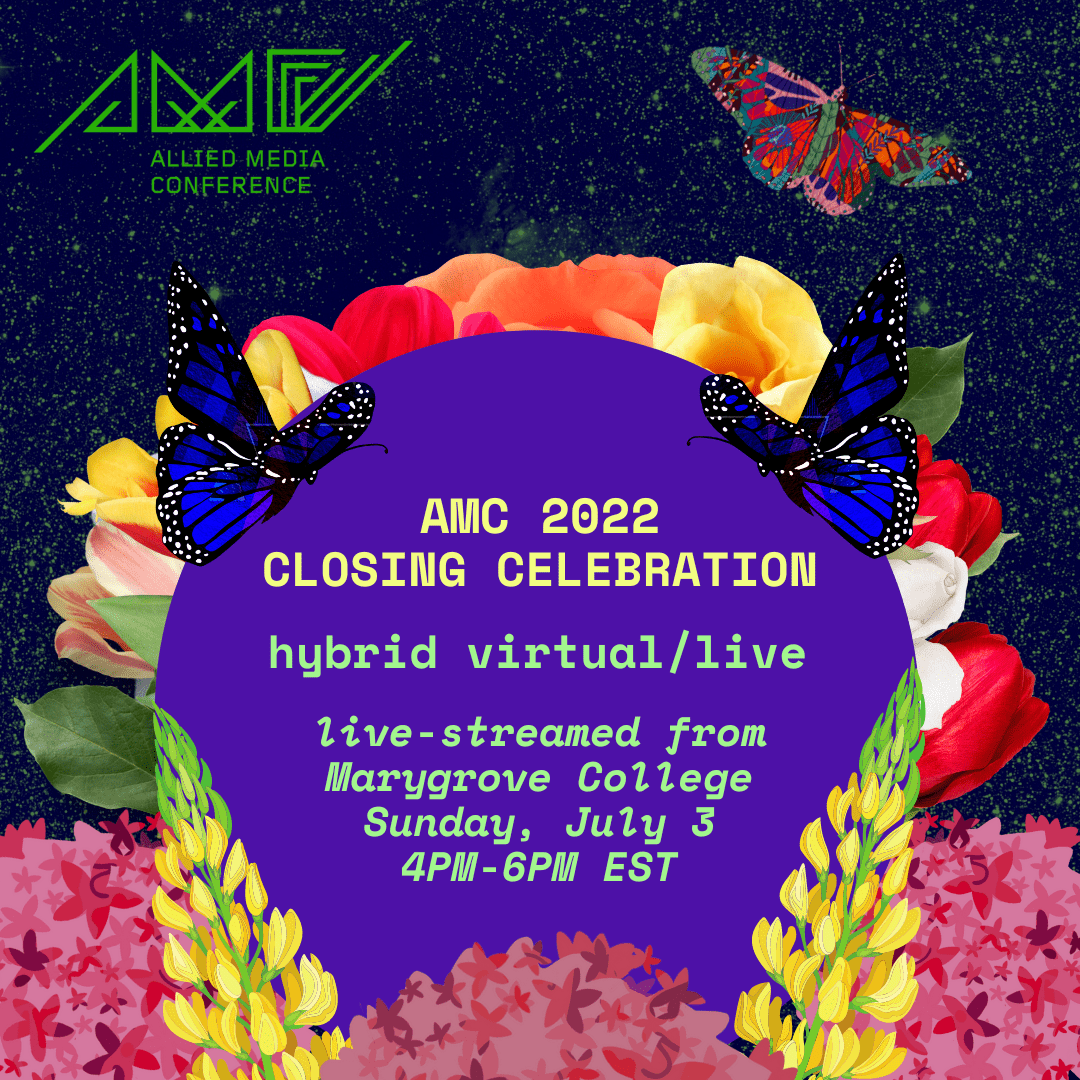 ---
AMC @ Night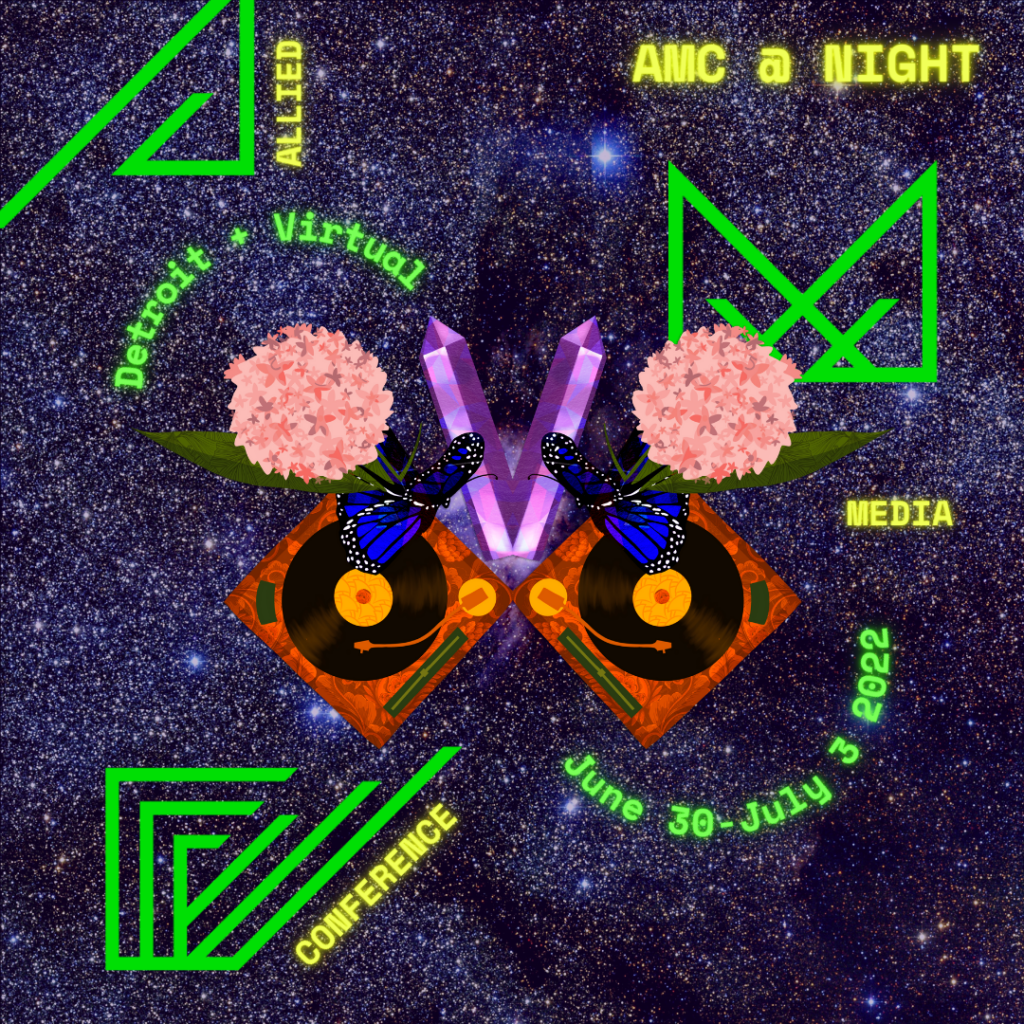 ---
Events in Detroit
AMC2022 x MoGo
Coming on as a community partner for this year's conference, MoGo will provide an organized bike ride on Saturday afternoon during the AMC.
What you need to know: MoGo will have bikes for all participants. We'll be meeting and starting the ride at MOCAD, located on Garfield Street between Woodward and John R. The ride will begin at 2pm, and will be led by MoGo's Executive Director, Adriel Thornton.

What you need to bring: Saturday has a high of 87 as of now, so we'd recommend throwing on some sunscreen and having water accessible to you before the ride. MoGo will not have helmets, so if you'd feel more comfortable wearing one, be sure to bring your own.

If you have questions: Please feel free to reply to jeremy@mogodetroit.org!
Detroit Narrative Agency at Feedem Freedom
DNA returns to the AMC this year to curate a Saturday afternoon at Feedem Freedom Farm where their film, Reclamation, will premiere.