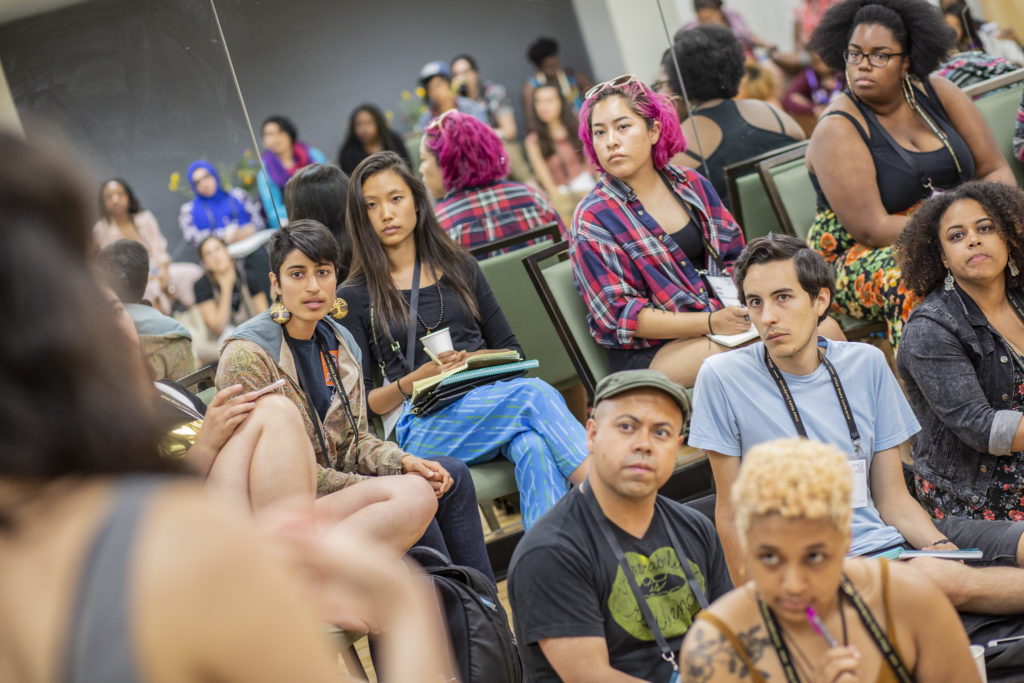 About AMC
The Allied Media Conference explores emerging futures at the intersection of media, art, technology, and visionary organizing. The 4-day biennial event comes to life through a year-long collaborative process that engages more than 100 coordinators working across issues, identities, organizing  practices, and creative mediums. Together, we co-create a space that celebrates the liberatory media of our communities, centering Black, Indigenous, Disabled, Queer, Trans, Undocumented, and People of Color communities. 

The conference explores two overarching  themes: media for liberation and visionary organizing. 

Each year, the Allied Media Conference explores two broad themes; Media for Liberation and Visionary Organizing. 

Media for Liberation explores all forms of media (art, technology, design, storytelling, journalism, etc.) and how our media-making can further liberation as an ongoing process of personal, collective, and systemic transformation.

Visionary Organizing grows our organizing capacity to envision and create a world in which we: care for ourselves, each other, other species, and the planet; dismantle supremacist systems as they operate upon us and within us; assume responsibility for creating new liberatory ways of being, and; cultivate life-affirming joy.

Each conference year, over 3,000 people gather to experience a range of dynamic content; from Network Gatherings to Sessions to life changing parties. Of conference attendees:

 

61.5% of attendees identified as a person of color

62.2% of attendee identified as LGBTQIA+ 

72.5% of attendees identified as a first time AMCer

The 22nd Allied Media Conference will convene nationally online and in-person for Detroiters June 30th – July 3rd, 2022.

The Allied Media Conference is a community-designed event relying on the brilliance of the Allied Media Projects Network to facilitate dynamic and engaging content over the course of  four days in June. 

See more here.

Through an open proposal process in the summer, we select focus areas that provide a deeper dive into the two main themes of the conference. These focus areas take the form of tracks and network gatherings (T/NGs). 

View the AMC2022 Tracks and Network Gatherings here. 

What is a Track?

In deep exploration of the AMC's two main themes (Media for Liberation and Visionary Organizing), a "Track" is a series of sessions connected by a shared theme. Each track includes 8-10 sessions

What is a Network Gathering? 

Network Gatherings are one- or two-day mini-conferences convened by a local or national network at the AMC. 

The purpose of Network Gatherings is to provide focused space for planning, skill-sharing, and community-building within the AMC for networks of people who are already organizing together around an issue or shared identity.

As we continue to organize the AMC under the ever changing conditions of a global health crisis and climate collapse, we made the decision to host all sessions online for three (3) key reasons:

The present moment asks us how we can care for each other, our more-than-human kin, and the planet by reducing the carbon footprint of the conference

Our commitment to centering Disability Justice requires us to imagine a conference where all can have access to transformative content we need to create the world we need

The ongoing reality of living in a pandemic asks us to find creative ways to gather without compromising public health and wellbeing
Attend
The AMC provides interpretation from English-to-Spanish, Spanish-to-English and ASL. Email amc@alliedmedia.org  if you would like to coordinate interpretation services ahead of the conference.

Certain sessions will be recorded if requested by presenters. We will not be recording sessions by default to respect privacy.

The Safety Team will be available for the virtual conference.The goal of the Safety Team is to practice transformative justice and to support the emotional health and well-being of our participants.

If you or someone you know experiences a situation of harm or abuse, is trying to negotiate sharing space, or is going through a rough time and needs some support, the Safety Team is here for you. We will be updating how to contact them during the virtual conference soon.

The AMC is for people of all ages! We have programming specifically geared towards kids and families. Sessions are geared towards learners of all levels including beginning, intermediate, and advanced.

Yes! You can help grow our community of media-makers building across issues, identities, and creative mediums by signing up as a sponsor today.  If you are interested in supporting the AMC, please review our sponsorship deck and contact us at amc@alliedmedia.org to discuss various sponsorship opportunities.

We encourage you to document and share your experiences online through social media and blogging. Be sure you have the consent of anyone whose face or voice appears in the post. Tag the @AlliedMediaConf in your posts.
Shape of AMC 2022
AMC2022 will be a hybrid conference, convening national participants online and curating a hyper-local, in-person convening for Detroiters, Metro Detroit residents, and communities throughout Michigan (occupied Anishinaabe, Peoria, and Meskwaki land).

A hybrid conference happens both in-person and online. As much as we miss the in-person magic of convening our national network, AMC made this difficult decision in deepest alignment with our Network Principles, particularly our commitment to disability justice. We know that our community trusts us to organize an AMC rooted in care for ourselves, each other, more-than-human kin, and the planet, and this hybrid shape will allow us to center that care as we grapple with the ever-changing realities of an ongoing global pandemic and climate collapse.

All AMC2022 sessions will be online on Zoom.
Registration
We know the financial impact of COVID-19 has hit our community directly. For this year's conference we are offering sliding scale registration from $75 to $500. AMCers who pay for registration help ensure that we can keep our plans to pay artists and contractors who support in the production of the AMC. Those registrations will be considered a tax-deductible donation to Allied Media Projects. You can purchase registration online on the AMC website or directly from Eventbrite.

Yes! The AMC offers registration support in the following ways: 

Annual scholarship to support low-income people living in Detroit and Flint. Please email us at amc@alliedmedia.org if you're interested in applying 

20% discount code for all Detroit residents

Complimentary registration for personal attendants of people with disabilities

Volunteering (minimum of four hours of work in exchange for complimentary conference registration and a free t-shirt)

If you would like to sponsor registration to support expanding access at AMC2022, please email us at amc@alliedmedia.org.

There is no deadline to register. As long as there are tickets remaining, you can register online through the last day of the conference.

We do not offer a separate large group registration rate or process. You can register up to 10 people at one time on the online registration page.

We strive to host inclusive, accessible events where all attendees can engage fully. When you register for the AMC, please let us know if you have accessibility needs. You can also email amc@alliedmedia.org in advance of the conference with specific questions about what we will provide. Additionally, AMC will work with speakers and facilitators and share best practices to create accessible presentations and sessions. Accessibility at AMC2022 will include:

ASL/VRI interpretation, CART, and simultaneous Spanish-English interpretation for the Opening Ceremony, Closing Ceremony, & Plenaries

ASL/VRI interpretation, CART, and Spanish-English interpretation will be available upon request for Session Blocks and Community Meet Ups

Additional language interpretation provided upon request

Pre-recorded media will be captioned in English when appropriate

For the in-person conference, events will also include wheel-chair access, gender-neutral bathrooms, scent-free spaces, and other accessibility resources.

AMC2022's conference footprint engages multiple areas of the city. We're excited to lean into this new possibility and know this will expand who has access to the life-affirming and transformative content the AMC offers. AMC2022 venues and locations include:

Selected Network Gatherings with a focus on Detroit organizing

All plenary sessions (also live-streamed online)

Opening and closing ceremonies

AMC@NIGHT parties at outdoor venues

Supper Clubs hosted by community members

A film screening hosted by Detroit Narrative Agency

Tracks / sessions

Selected Network Gatherings convening online 

Plenary sessions

Ceremonies 

AMC@NIGHT virtual concerts and live DJ sets

Yes!  Volunteers provide four (4) hours of work at the conference, which can be split into two shifts. AMC2022 Volunteers will have the option of supporting the virtual platform, in-person conference, or both (hybrid). In exchange for your time, you will receive a volunteer t-shirt and complimentary AMC registration. The deadline to apply is June 1st, 2022. Apply today!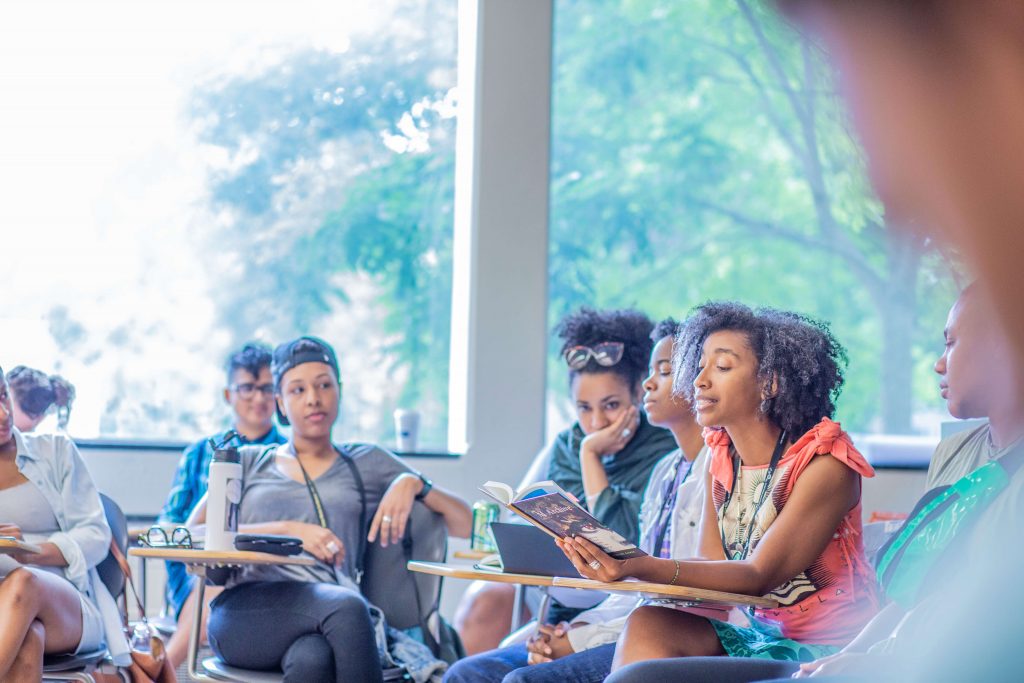 Network Gatherings
Network Gatherings are one- or two-day mini-conferences convened by a local or national network at the AMC. Through an open call for proposals, the AMC accepts a total of 20 Network Gatherings.

The purpose of Network Gatherings is to provide focused space for planning, skill-sharing, and community-building within the AMC for networks of people who are already organizing together around an issue or shared identity.

Network Gatherings usually happen during the first two days of the AMC (Thursday, June 30-Friday, July 1st) but please check the individual Network Gathering pages to verify when and where gatherings will take place.

All Network Gatherings will happen online, with the exception of 2-3 Network Gatherings focusing on Detroit organizing.