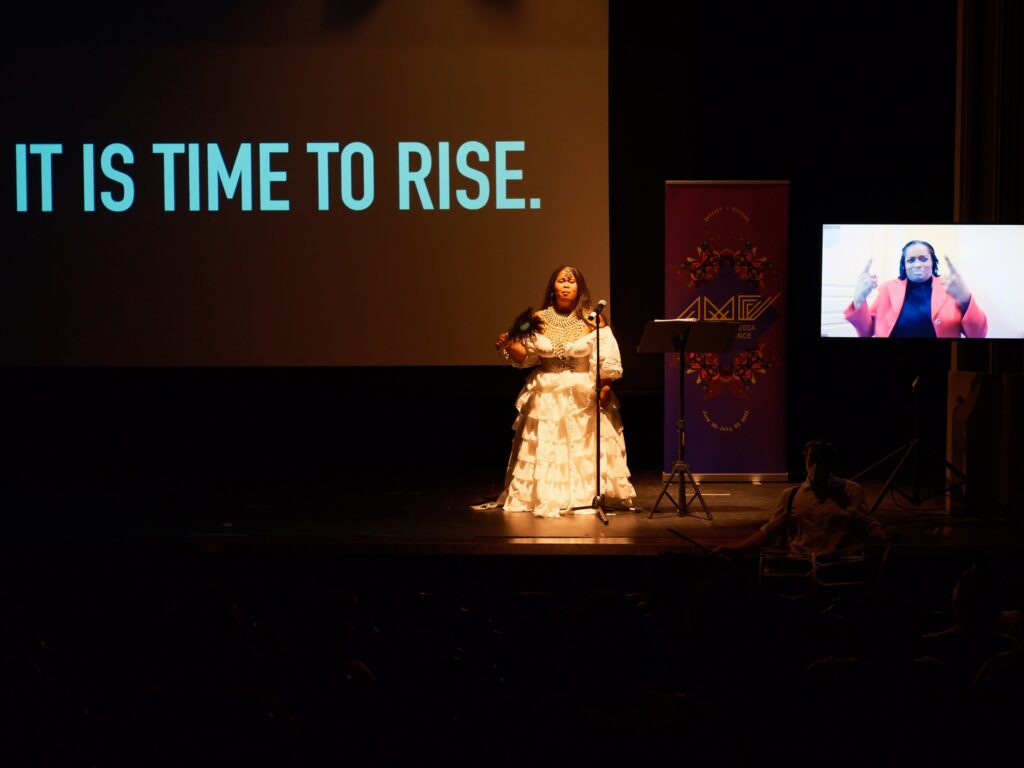 "This conference felt like a hug, a slap, a kick in the ass, a gentle caress as someone wipes away my tears. I learned so much about myself and the communities around me (both that I'm a part of and not). I felt a deep call to stay connected and re-engage in the work after these years in isolation." —AMC2022 Survey Respondent
Our team thanks you for sharing your responses to the AMC2022 Feedback Survey. You traveled this very uncertain road with us, offered us grace and love during technical and accessibility challenges, and opened portals for ground-shifting conversations and joyous healing.
For AMC2022, we asked ourselves: how do we integrate disability justice more deeply in our work? How can we practice climate justice by asking our remote community not to travel to Detroit? What new hybrid opportunities exist for reimagining how we gather? And how do we still cultivate magic, joy, and critical connections through it all?
As we reflect on the last year of organizing our first ever hybrid AMC— in the midst of the ongoing COVID-19 pandemic, climate collapse, and compounding violences of state and empire— we are exhausted, but reignited in our commitment to media for liberation and visionary organizing. After reviewing survey responses and hosting a series of debriefing conversations with AMC staff, coordinators, and community partners, we've identified important lessons and takeaways that will help us shape this next chapter of the AMC and deepen our commitments to a more creative and just world.
Takeaways
AMC should continue hybrid programming
"I really appreciated y'all holding online space for us to attend from home. As a sick and disabled person, it means so much to me to be able to participate without putting my life at risk. This inclusion and belonging is everything." —AMC2022 Survey Respondent
We got great feedback on our first-ever hybrid shape!
Our plenaries, ceremonies, and AMC@Night programming delivered the AMC magic our veteran attendees are used to, and inspired new attendees to join our community.
Presenters and attendees both appreciated the language justice and interpretation resources; over ⅓ of our sessions included some form of interpretation.
Our takeaway: AMC should continue to curate hybrid programming; produce the amazing plenaries, ceremonies, and AMC@Night programming our community expects; and continue to invest in language justice and interpretation resources.
AMC should continue to reimagine how we gather
"Bummer more couldn't be in person–but was a the best hybrid conference I have attended in the last 3 years in terms of content and use of in person gatherings." —AMC2022 Survey Respondent
While the majority of our community appreciated the hybridity of AMC2022, there is a need to continue to imagine what it needs to gather our network, and what that shape can look like in the future.
If meeting everyone's needs on this scale is impossible — and the pandemic, alongside climate collapse, restricts our possibilities in real and sobering ways — then how can we listen for a new shape to emerge, one that can carry the AMC into the next chapter of its decades long history?
Our takeaway: AMC will imagine the new shape of how we gather, strategize, and heal together across movements and mediums as we continue to listen and learn from our AMC network.
The perfect virtual platform does not yet exist
"The virtual aspect was pretty tough to navigate, the platform was glitchy, and I feel like every workshop I attended was delayed due to tech issues." —AMC2022 Survey Respondent
After an extensive platform audit and months of research led by our UX team — erika harano, Stephanie Imah, Kristyn Sonnenberg, Fisola Famuyiwa — we selected Accelevents as our virtual platform because it had the best capabilities for meeting our varied and comprehensive needs. While some attendees loved Accelevents, we got feedback from others that it was cumbersome to navigate, dysfunctional, and that attendees found it difficult to connect with AMC staff and presenters.
The reality is that the perfect platform, rooted in our values and needs, does not yet exist: how can we better meet our network's needs as we continue to produce hybrid programming online?
Our takeaway: AMC will prioritize a process of UX design to create a more easeful user experience for our virtual programming and engagement, prioritizing disability justice, consentful tech, and digital safety.
Lessons Learned
While we worked hard to meet the needs of our network and curate an engaging, accessible experience for all, it's clear that the AMC needs to do more to create a secure experience for our AMC attendees, presenters, and staff. Although we attempted to keep our communities safe, we experienced unfortunate zoom bombing and did not have the safety team capacity to support with this. We apologize to the session presenters and Network Gathering coordinators who experienced this virtual harassment, and the attendees who were also negatively targeted in those spaces. We are deeply sorry that it has made members of our community question our commitment to safety, especially given our expressed commitments to digital justice and transformative justice and their long-standing roots in AMC history.
We know a good apology is best received when accompanied by restitution and changed behavior, and we are grateful to our community for holding us accountable. Our desire to deliver the security that our community needs means that we are recommitting to safety in the following ways:
AMC will invest more staff, more resources, and more infrastructure to best support attendees, presenters, and collaborators.
"I understand that a conference of this scale is a large undertaking, and want to extend grace around that; at the same time, however, such barriers + overextensions of organizational capacity do a great disservice to the presenters + coordinators who've spent months preparing for this conference." —AMC Track Coordinator
Our community is exhausted, and our collective capacity is stretched. Due to sickness, grief, exhaustion, and a host of other personal challenges, our organizers — from our AMC staff to presenters to volunteers — stretched their capacity, leading to disorganization, last-minute cancellations, and burnout that unfairly and disproportionately impacted our presenters and attendees.
Our takeaway: We need to adequately resource the AMC with enough financial, staff, and organizational capacity to responsibly support our community and host an accessible and engaging conference, in-person and online.
AMC will hire and train more safety support
"My biggest complaint was that Detroit safety team didn't seem to be a part of this years conference as conflict resolution." —AMC2022 Survey Respondent
Due to unforeseen circumstances, our longtime community partners, Detroit Safety Team, were not able to support AMC2022. This created a gap in our ability to respond to harm and conflict, virtually and in Detroit.
We also did not contract a Digital Holistic Safety team for AMC2022 as we did for AMC2020, creating a gap in our ability to respond to virtual harassment
Our takeaway: AMC needs both virtual and in-person safety teams to keep our attendees, presenters, and collaborators as safe as possible, and to provide support when conflict and harassment arises.
AMC will continue to center Detroit-rootedness
"Since moving to Detroit, the conference has been increasingly a home for young, queer, disabled Black folks, Indigenous folks, folks of color coming from low-income communities who are using media to transform the world." —MARS Marshall, AMC Director
AMC will continue to deepen our commitments to local media-based and visionary organizers. This might look like:

Developing AMC programming year-round to better engage our Detroit community
Leading more effective outreach to our local community members to increase Detroit engagement at the AMC
Uplifting and amplifying our Detroit network through events, social media, and our newsletter
Your feedback has illuminated new spaces for us to grow and old places for us to deepen our commitments as we imagine how to make the AMC more accessible, engaging, and magical as ever. Thank you for joining us on this transformative journey, and for being a beloved member of our community.
Please contact us at amc@alliedmedia.org to share more about your experience.