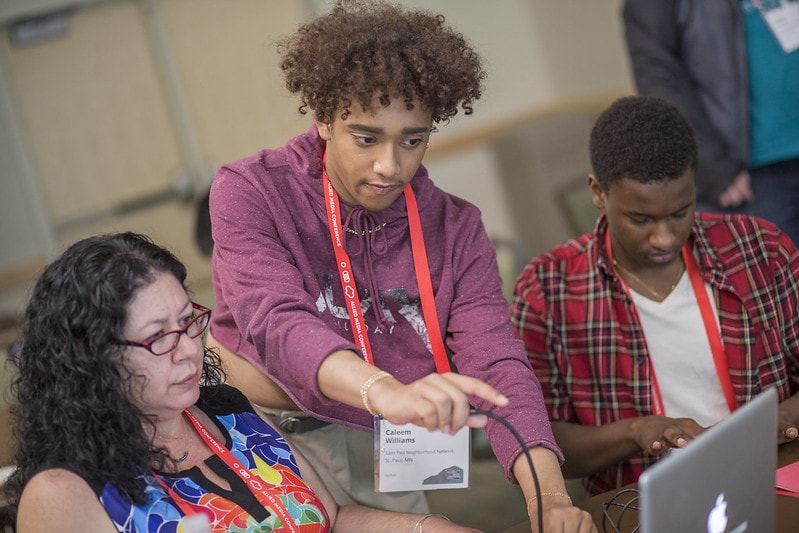 Calling all volunteers for the hybrid 22nd Biennial Allied Media Conference!
The Allied Media Conference explores emerging futures at the intersection of media, art, technology, and visionary organizing, and will convene nationally online and in-person for residents of Detroit from June 30th – July 3rd, 2022. AMC2022 will feature workshops, meet-ups for community-building, ceremonies, panels, performances, film-screenings, life-changing dance parties, and epic sessions of strategizing and dreaming.
From welcoming participants at the registration table to installing signage and assisting accessibility throughout the conference, volunteers make the AMC run smoothly.
Call for volunteers
We are excited to open our call for volunteers for AMC2022. We welcome volunteers of all ages, identities and abilities, and especially look forward to applications from returning volunteers. The deadline to apply has been extended to June 10th, 2022.
AMC volunteers provide four (4) hours of work at the conference, which can be split into two shifts. Volunteers will have the option of supporting the virtual platform, in-person conference, or both (hybrid). In exchange for your time, you will receive a volunteer t-shirt and complimentary AMC registration.
Volunteers are also required to participate in a virtual orientation on June 14th or June 16th, from 5:00PM EST/4:00PM CT/2:00PM PST – 6:00PM EST/5:00PM CT/3:00PM PST. If you cannot attend one of these trainings and still want to volunteer, you are required to watch the recordings.
How to apply to volunteer at AMC2022:
Apply using this form to detail your interests and experience level with the AMC
Participate in a virtual orientation on June 14th or June 16th, from 5:00PM EST/4:00PM CT/2:00PM PST – 6:00PM EST/5:00PM CT/3:00PM PST
If selected, please confirm your participation as an AMC2022 volunteer by Friday, June 10th. Once confirmed, we will send you a link to register for the orientation and your volunteer assignments.
Volunteer roles at AMC2022 this year include:
In-person roles:

Ushers
Signage
Nighttime Events
Merch
Medical support (i.e sharing COVID-19 protocols, mask distribution, etc)
Childcare
Set-up / Take-down for Ceremonies, Plenaries

Virtual roles:

Tech support: this is where the bulk of our volunteer needs are. We're hoping to provide tech support to as many virtual sessions as possible (we'll be hosting approximately 125 in 6 session blocks). This would include helping folks access their virtual sessions; monitoring the chat; turning on closed captioning; and other needs. We'll be training all volunteers on how to support session presenters with this.

Hybrid roles:
Please email amc@alliedmedia.org with any questions. See you this summer!