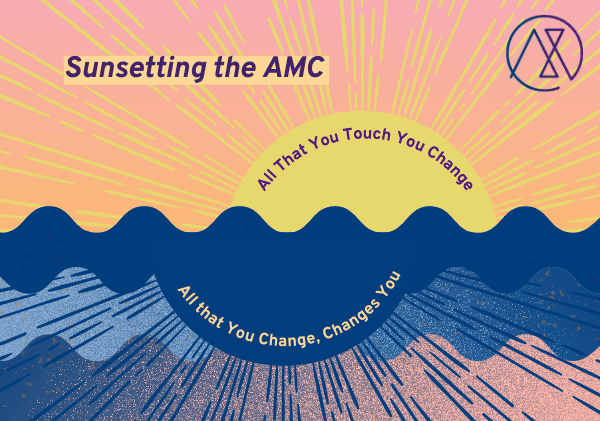 AMP Transformation and the Allied Media Conference
For 23 years, the Allied Media Conference (AMC) has been a community-designed experiment in visionary organizing, community care and social justice coalition-building toward liberation. Together, we have hosted historic convenings such as the first International Trans Women of Color Network Gathering in 2014, the first national gathering of Black Lives Matter chapters in 2015, the Families United for Justice gathering in 2017, the In Our Names Network Gathering of 2020, and the Preserving Detroit Stories Network Gathering in 2022.
In providing a home for these gatherings and so many others, the AMC has fueled movements rooted in Black feminism, queer and trans liberation, cultural organizing and disability justice. Together, we have nurtured the development of social justice concepts and organizing frameworks such as Misogynoir and Emergent Strategy that fundamentally transformed the way people organize, communicate and work toward liberation. We have seen our collective work take root across the country and globe, cross-pollinating hundreds of projects and partnerships that expanded our imaginations toward a future of collaboration, care and freedom.
The AMC has taken many forms throughout the years, continuously adapting to meet our communities' needs. For a few years now, we have been considering restructuring our programming at AMP to reflect the organization we want to be and create the culture of care we want and need to see in the world. We have made the difficult and yet necessary decision to sunset the Allied Media Conference and AMP Seeds Program to enable us to more holistically support our staff, be diligent stewards of our resources, and continue to provide quality programming to the AMP network.
This change will allow us to more effectively center our work as a fiscal sponsor to organizations and people making media for liberation. We are excited to continue supporting the work of more than 130 sponsored projects, many of which were seeded and have evolved through the AMC. We will continue to transition our AMC website to a resource library and archive for our community to have access to the transformational outcomes of our work together. Please visit amc.alliedmedia.org for 23 years of lessons, memories and resources.
We are immensely grateful to the many hands, minds, and hearts that shaped this conference over the past 23 years. The connections, ideas, and resources will live on and continue to shape our future. From the Black liberation movement to design justice to PIC abolition, our collective impact has shaped change across the world. The roots of what we grew and seeded together through the AMC and Seeds Program will continue to nourish and liberate communities for generations to come.
Change has always been — and will continue to be — a key part of our ongoing path toward mutual liberation. While AMP is sunsetting the AMC and the AMP Seeds Program, this transition will not disrupt the core of what we do. Using the lessons, relationships and resources built and cultivated at the AMC and through the AMP Seeds Program, we can increase our collective ability to help make the radical possible by facilitating access to money and supportive infrastructure directly to the organizers and projects at the forefront of movement work.
From the bottom of our hearts, we thank you. We love you. And we'll never stop imagining, dreaming and building transformative futures alongside you.
With gratitude, care, and forever towards liberation,
— the Allied Media Projects Team