How to Virtual AMC
AMC Virtual Spaces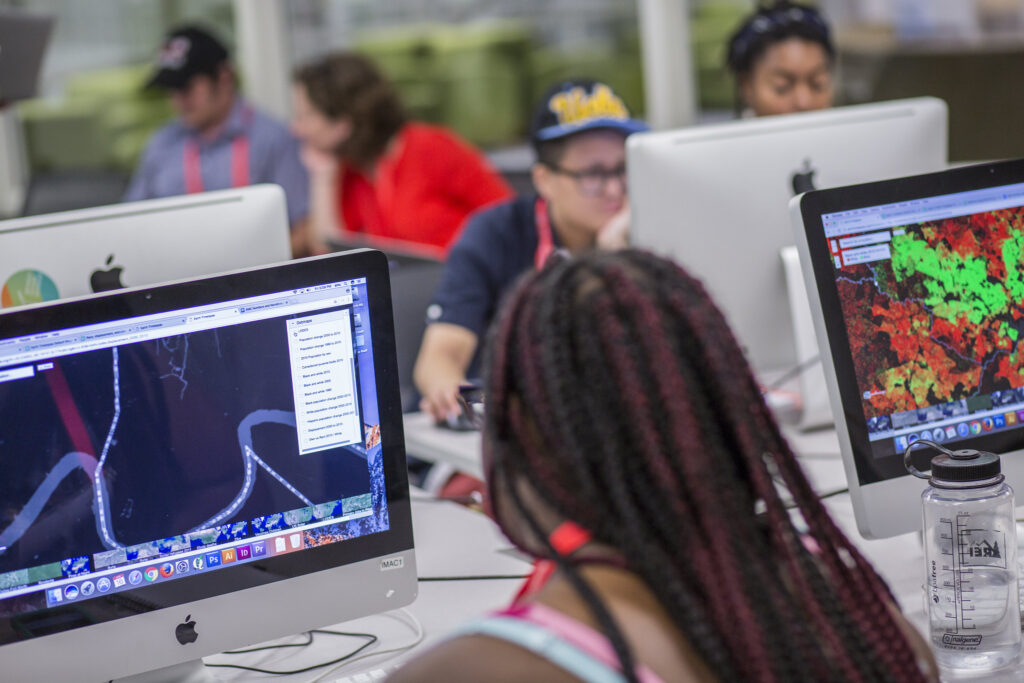 This year, all AMC activities are taking place virtually.
The first step to joining the virtual AMC is to register. From there, you will receive an email with all of the information you need to access and navigate the platforms of the virtual AMC.
You do not need to register to watch main events like ceremonies and parties — just visit amc.alliedmedia.org at the time of the event to watch!
List of AMC2020 Virtual Spaces
Accessing support
If you need help with any of these platforms, you can email amc@alliedmedia.org, post to the help-desk channel in Slack, or chat with a Radical Hospitality Facilitator during a Zoom session (more information on Slack and Radical Hospitality Facilitators below).
If you experience harm, abuse, or need emotional support in any of these spaces, you can contact the Detroit Safety Team; more info about DST can be found here.
Step by step guide to getting on to the Virtual AMC platforms
With each step, we've listed some important things to keep in mind regarding privacy and accessibility. See the Holistic Safety and Accessibility pages for more detailed information.
Join an interactive session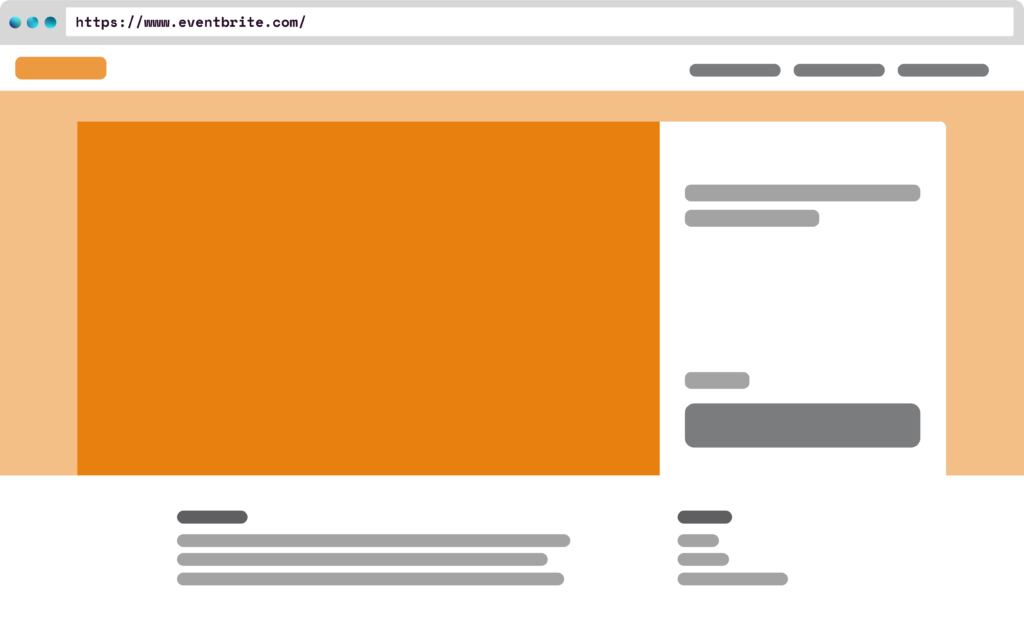 1. Register on Eventbrite
Safety and privacy notes: You need to enter your name and email address to register for the AMC. AMC will use this information to communicate with you during and after the event.

Eventbrite may use your data for marketing and internal analysis. Eventbrite may share your information with third parties. You can delete the information Eventbrite is storing about you in your Eventbrite account settings. Instructions
2. Create an account at amc2020.sched.com and add sessions to your agenda.
If you are not automatically taken to Sched when you register, check your email for an invitation to create an account.

Interactive sessions include community meetups, some film screenings, hands-on sessions, healing justice, panels and presentations, and strategy sessions.

Interactive sessions are limited in capacity. Session times are listed by default in Eastern Standard Time.
Safety and privacy notes: Check your Settings to make sure that your profile is not publicly visible if you don't want it to be.

You can delete your profile and information associated with your profile through your account settings. Instructions
Accessibility notes: For screen-reader users, adding items to your schedule and navigating the event information seems to work best using the Schedule app with an iPhone. Please reach out to accessibility@alliedmedia.org if you need additional support.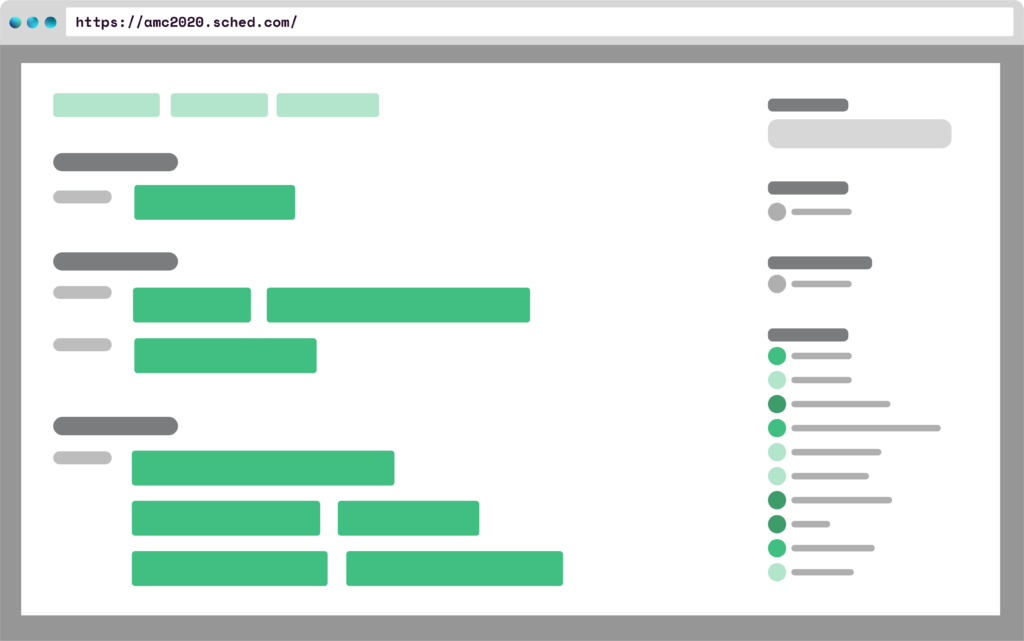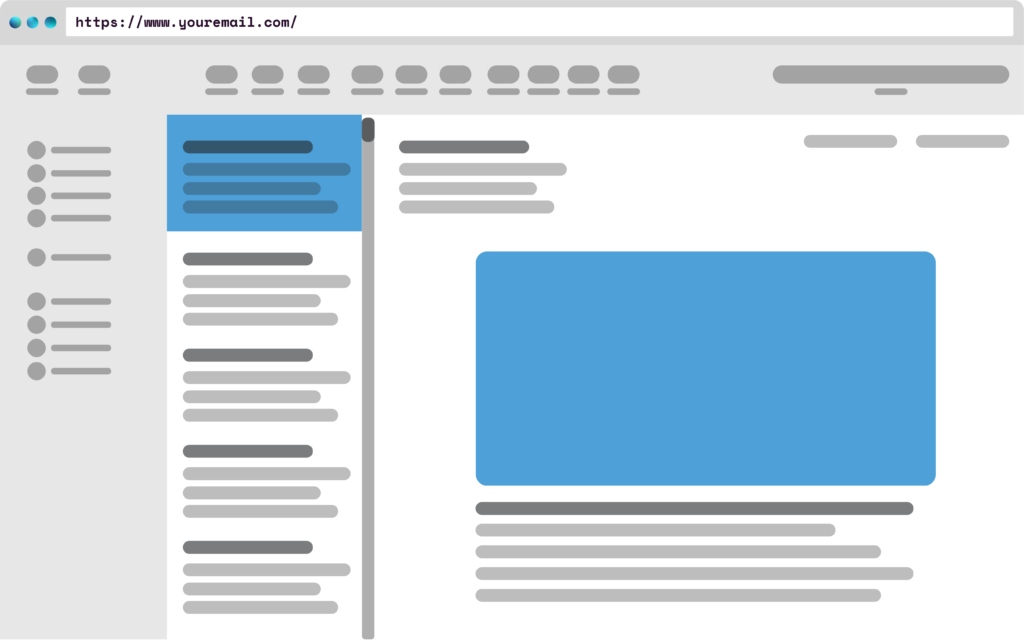 3. 15 minutes before your session, check your email for a private link to a room in Zoom
The link will go to the email account you used for Eventbrite and Sched.

You can prepare for your session by making sure you have signed up for and installed Zoom. You can do that here.
Safety and privacy notes: Zoom is not a private place for sensitive information or secrets. If you want to continue a conversation that has sensitive information or secrets, see our recommended platforms in our Holistic Safety guide.

You can delete your Zoom account through your Zoom account settings. Zoom makes a record of meetings you join based on your IP address and this will not be deleted when you delete your account. Instructions
4. Click on the link in your email to open your session in Zoom.
Make sure you have Zoom installed so you don't get delayed in joining your first session! Install Zoom here.

Please add your pronoun to your screenname by right-clicking on your name when your Zoom session starts.
Safety and privacy notes: If you don't want to use your full name or your real name, you can change your name to a pseudonym in your Settings.

For more anonymity, download and use one of our AMC profile pics instead of an actual photo.
Decide whether your video is on or off in sessions

Use a digital background in video sessions to keep your location private.
Accessibility and support notes: Each session will have a Radical Hospitality Facilitator (aka Tech Support Lead) who is there to support your experience from using the tools to accessing content. You can chat with them during any session in Zoom to start a conversation.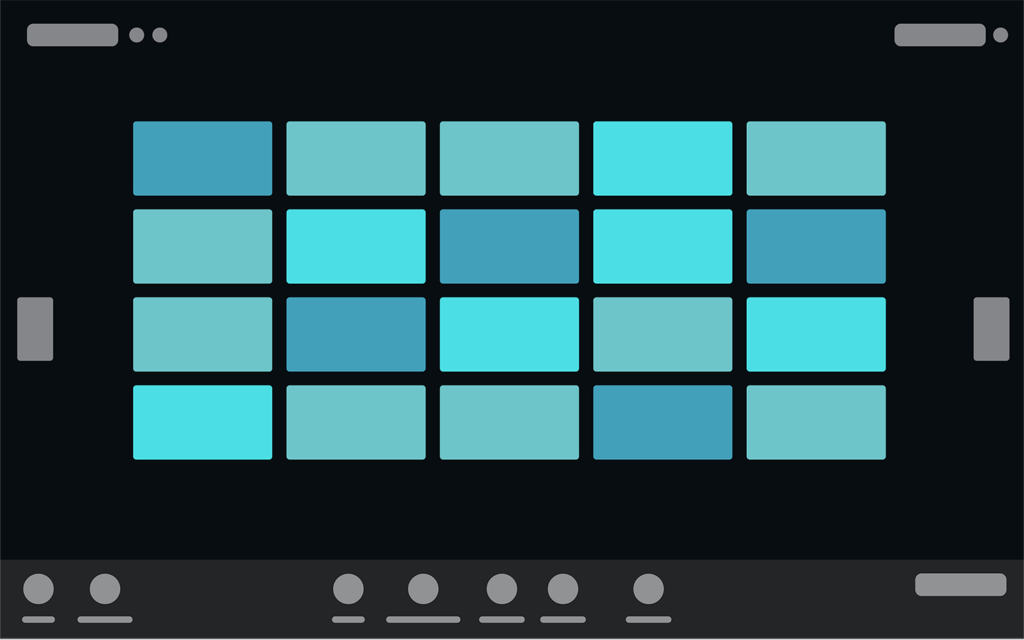 Watch a livestreamed Main Event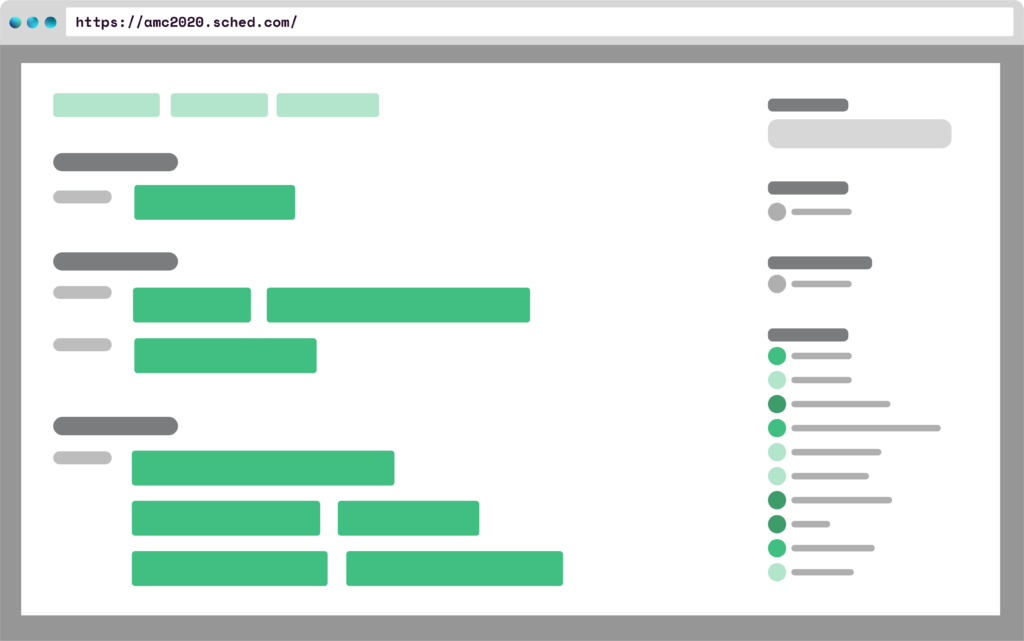 2. Click the "Video Stream" button in the Sched event listing to watch on YouTube.
The video player will open in a new window or tab.
Safety and privacy notes: YouTube is owned by Google which keeps a record of your activities across Google products. On YouTube this includes your searches, and interactions with media, ads, and other accounts.
To participate in chats on YouTube, you need to be signed in to a YouTube account.

You can delete data Google stores about you and your Google accounts. Instructions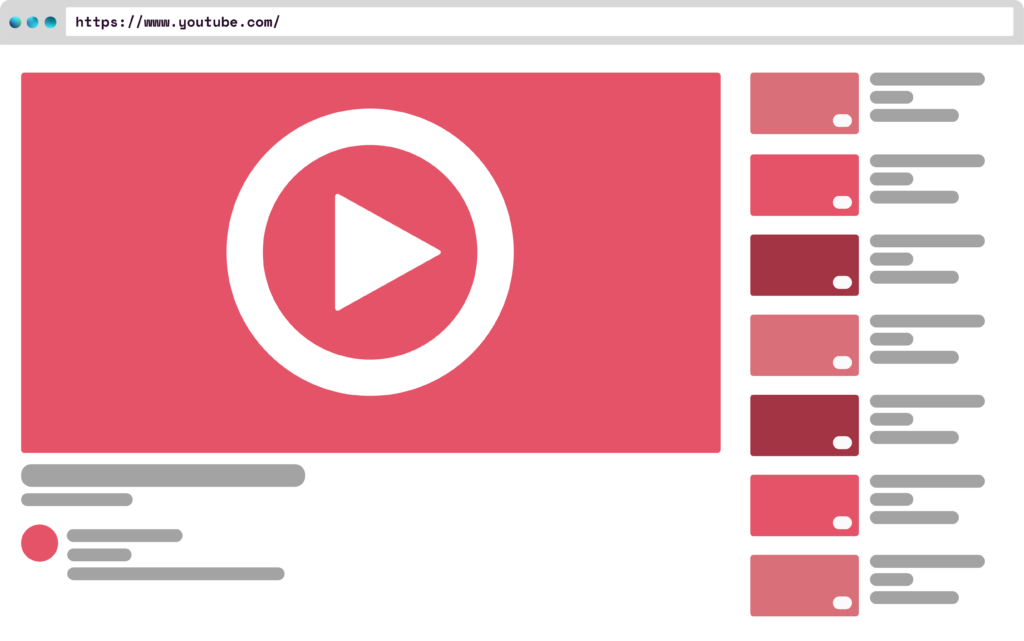 Connect with other participants and AMC staff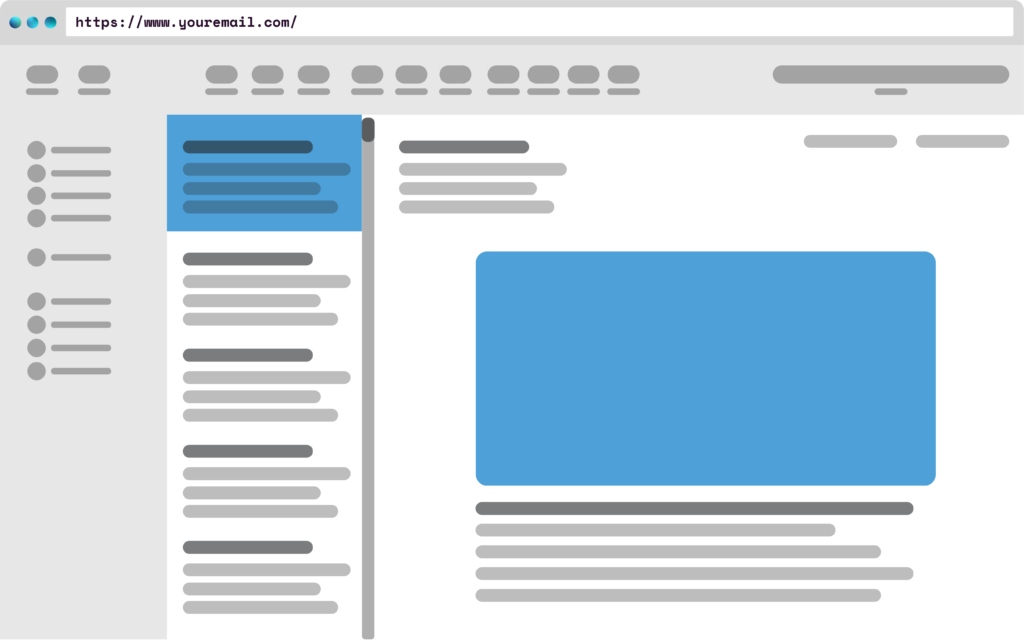 1. Once you register on Eventbrite, you'll be emailed a link to join the AMC Slack Community.
The link will go to the email account you used for Eventbrite.
Privacy and safety notes: If you do not want to participate in Slack, you can still access help by emailing amc@alliedmedia.org.
2. Click the link in your email to set up an account on Slack and chat with other participants.
Slack is a real-time messaging tool. In the AMC Slack community, you'll be able to introduce yourself, find people who share your interests and live near you, and chat about your AMC experience.

If you need help with anything during the conference, you can message the #help-desk in Slack.
Safety and privacy notes: Slack is not private. It's like a whiteboard in a public hallway that Slack takes frequent photos of periodically and logs who says what to whom and when.
The messages you send and versions of messages you have sent, edited or deleted will be retained by Slack even when you leave the AMC workspace or close your account.

You can request that your personal profile and information are removed from Slack by submitting a request to AMP via a form [coming soon]. Instructions

You can deactivate your membership in the AMC workspace which will remove your membership, but not your personal information or messages.
Instructions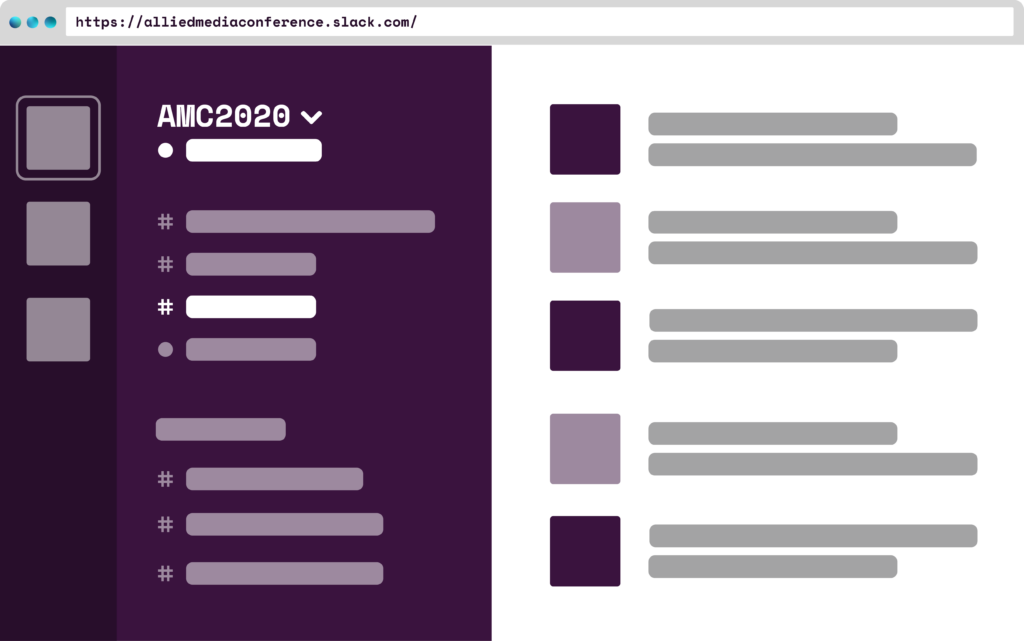 Still have questions? Send an email to amc@alliedmedia.org.
Virtual Spaces

Come inside the Virtual AMC! Learn about the platforms where the AMC is taking place and how you can join.

Community Agreements

How we share space at the AMC

Accessibility

Learn what services are available at the AMC and how you can help make the AMC accessible for all.
Holistic Safety

Stay safe online and off. Learn about digital safety best practices and how to contact the AMC Safety Team.

Self Care

Virtual fatigue is real. Here are some friendly reminders and ideas for re-energizing offline.

COVID-19 Community Care

The AMC works hard to create the safest and most accessible spaces we can. Here are a few COVID-19 protocols we put in place for AMC2022.